Parking, Car Culture, and a Crash at Five Points
How does the city expect to implement a "social district" anywhere downtown if cars, the most anti-social form of transportation, still have the highest priority?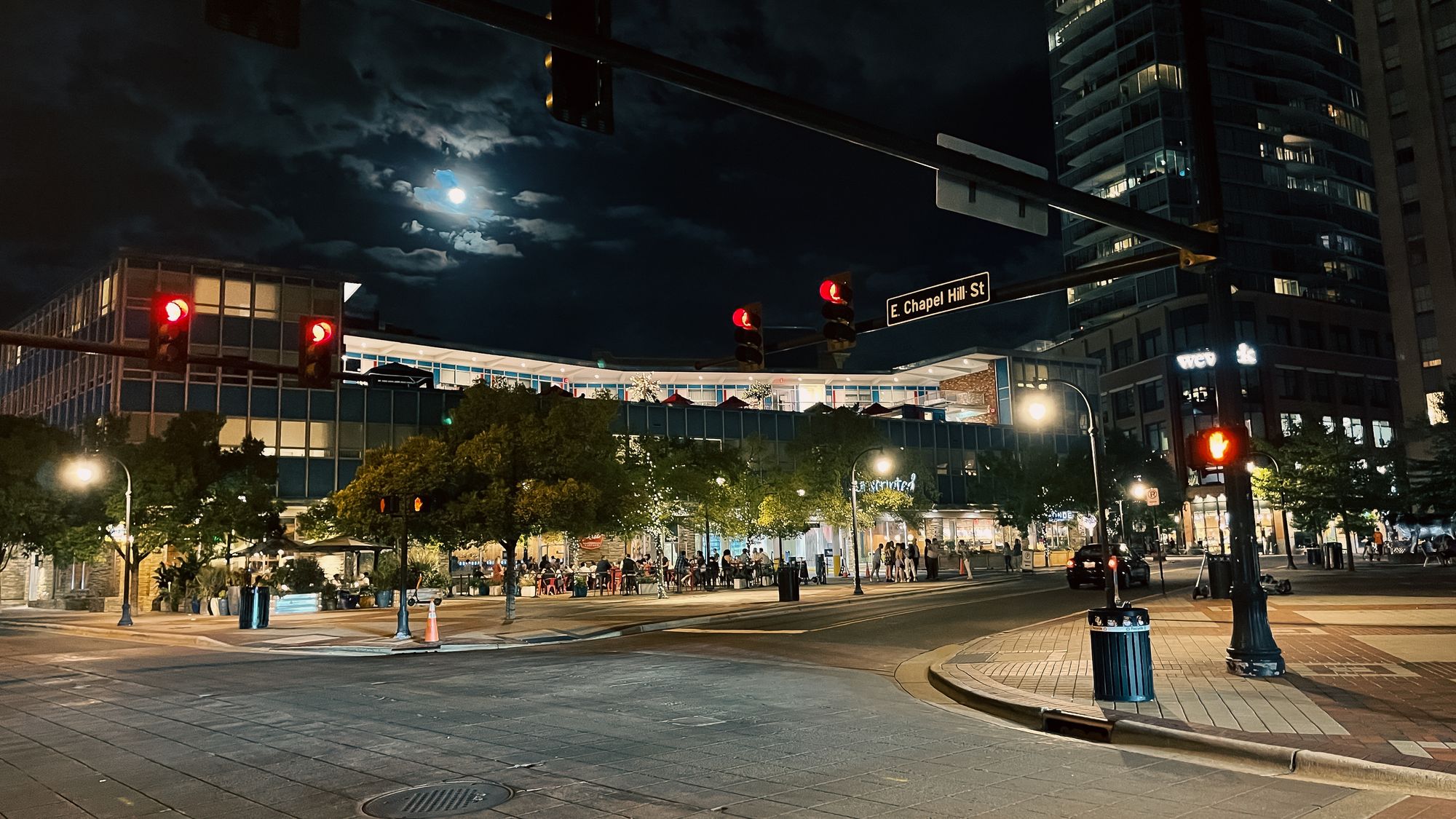 Since the pandemic began, it's hard to know what to expect on a night out, even with the droves of new residents moving here. At one point, the number was 60 per day. When things opened back up, it was like people returned from the Blip: thousands just showed up out of nowhere. Coupled with all the craters in the ground from recent construction and you've got an unpredictable downtown.
It takes me about seven minutes to bike into the city center. I'd love to walk from time to time, but there's almost nothing on the route; a few homes followed by an empty plot, a small city park that's not well-lit, and a series of parking lots at ABC11 and the library. Downtown connects to a number of neighborhoods, each with their own version of that inbound commute. Coming from Southside? You're either crossing the freeway or walking the long stretch on Blackwell St. before arriving at the Bulls Stadium. If you live in Trinity Park, you're practically IN downtown as soon as you step outside. Those disparities are not coincidental and speak to the larger inequities our housing and infrastructure policies have created.
Last Friday night, we drove into town and parked on the loop next to Monsoon with little resistance; parking spaces were plentiful. We walked the loop as far as the Durham Arts Council then swung back through Five Points on Chapel Hill St. before arriving at Kingfisher for our first round. The city was buzzing.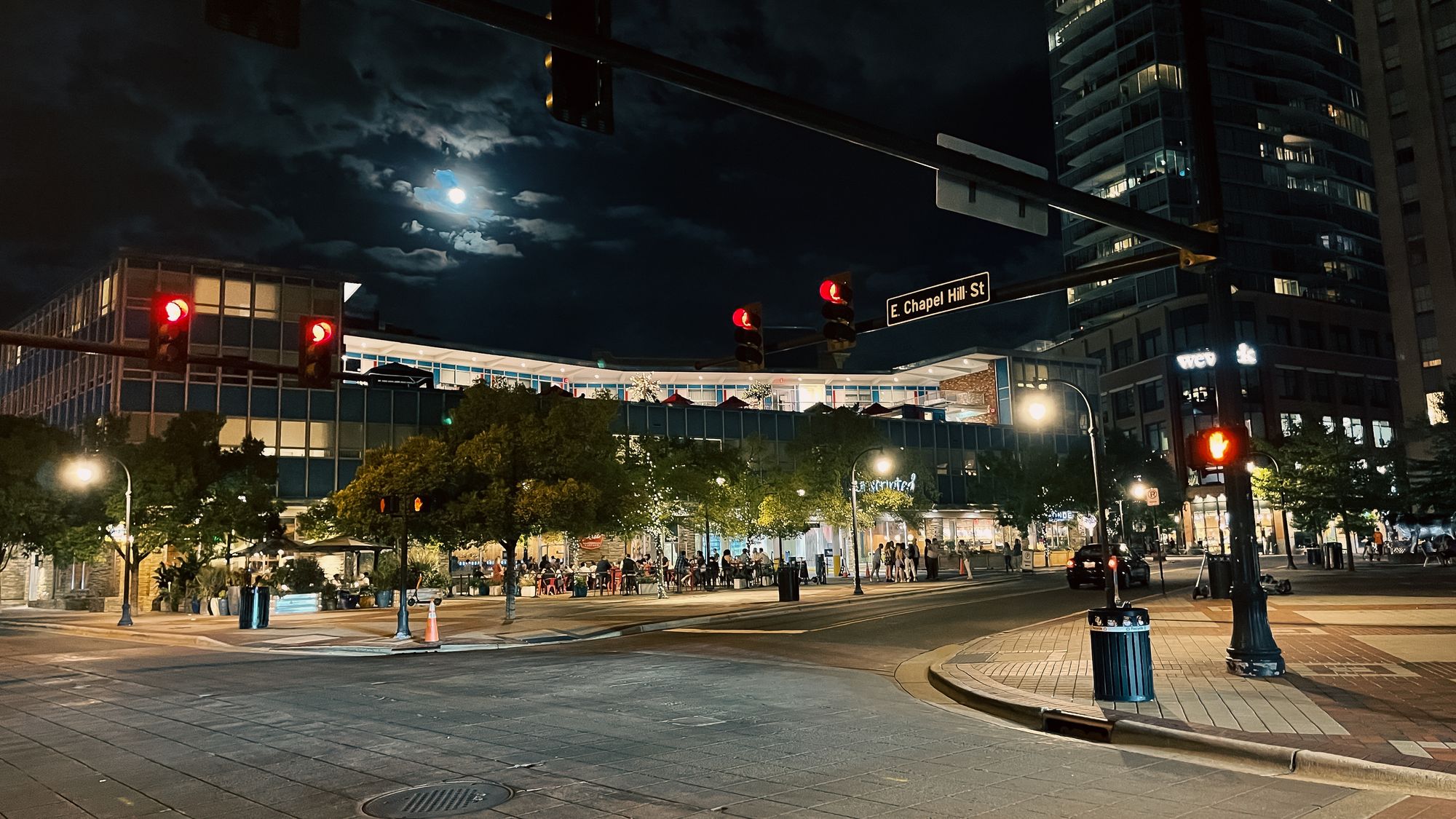 The walk down Rigsbee St. from Kingfisher to Surf Club is uninspiring: A bunch of closed offices, the land formerly home to a McDonald's, million-dollar condos currently under construction, and this parking lot.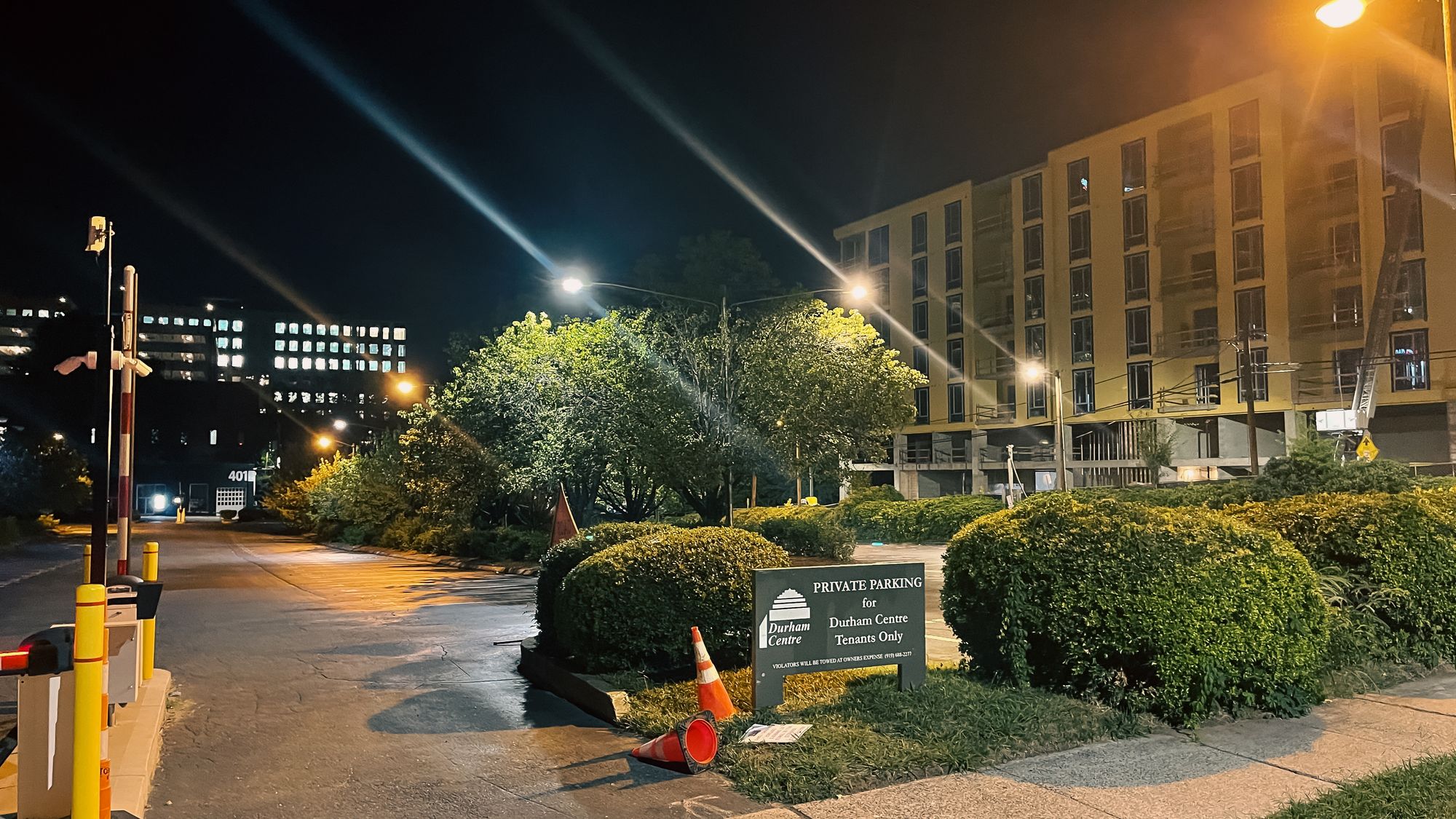 As far as I'm concerned, this is parking for the Farmer's Market and YMCA overflow. But apparently, the spaces are for Durham Centre tenants. I've lived here my whole life, worked downtown for a decade, and had no clue that the big glass building next to Carolina Theatre was "Durham Centre." They clearly need the parking spaces because the attached garage at Durham Centre is… also very much available.
The owner of the lot recently made an "unsolicited offer" to the city about purchasing the parking garage. But I prefer this idea:
Opportunities to transform developed areas back into green space don't present themselves often. Losing "the fish wall" to One City Center was ominous at the time. Density is important for us to meet our climate goals, but so are fresh air and trees, and they shouldn't be zero-sum. If giving up another chunk of the skyline means getting DCP 2.0, I'm ready to sign.
The narrative that it's "hard to find parking downtown" runs counter to the experience on the ground. The streets were active and yet multiple parking garages looked, and the Durham Centre lot most certainly was, empty. Frankly, it should be hard to park downtown. * Puts on Bike Durham hat. * Between the drunk drivers, young drivers, texting drivers, completely oblivious drivers, who are sometimes all the same person, the city is a game of Twisted Metal. Reducing the number of parking spaces is an incentive to change our behavior meaning more walking, biking and busing.
That same night, a cyclist was hit by a driver who left the scene dragging the person's bike underneath their truck. The cyclist did not suffer life-threatening injuries but remains in the hospital as of today. Weeks ago, I had my own run in with a driver making poor choices at the Five Points intersection. It's not well-stripped which encourages chaos. This will only be made worse by the addition by the newest Austin Lawrence project as more cars and pedestrians are added to the "the core of kinetic downtown Durham and its Five Points District" on a regular basis.
Downtown Durham Inc. has been surveying citizens about a "social district" after Raleigh offered a similar proposal. Think Savannah, Georgia or New Orleans — This would allow bars and restaurants to sell alcoholic drinks to customers which they could take away from the business and enjoy in the designated area. It has the potential to create more opportunities for people to commune with each other in outdoor spaces; a welcome addition to downtown. But how does the city expect to implement a "social district" anywhere downtown if cars, the most anti-social form of transportation, still have the highest priority?