By The Horns | August 31, 2023
Will the SCAD text amendments become the most important issue in this year's election?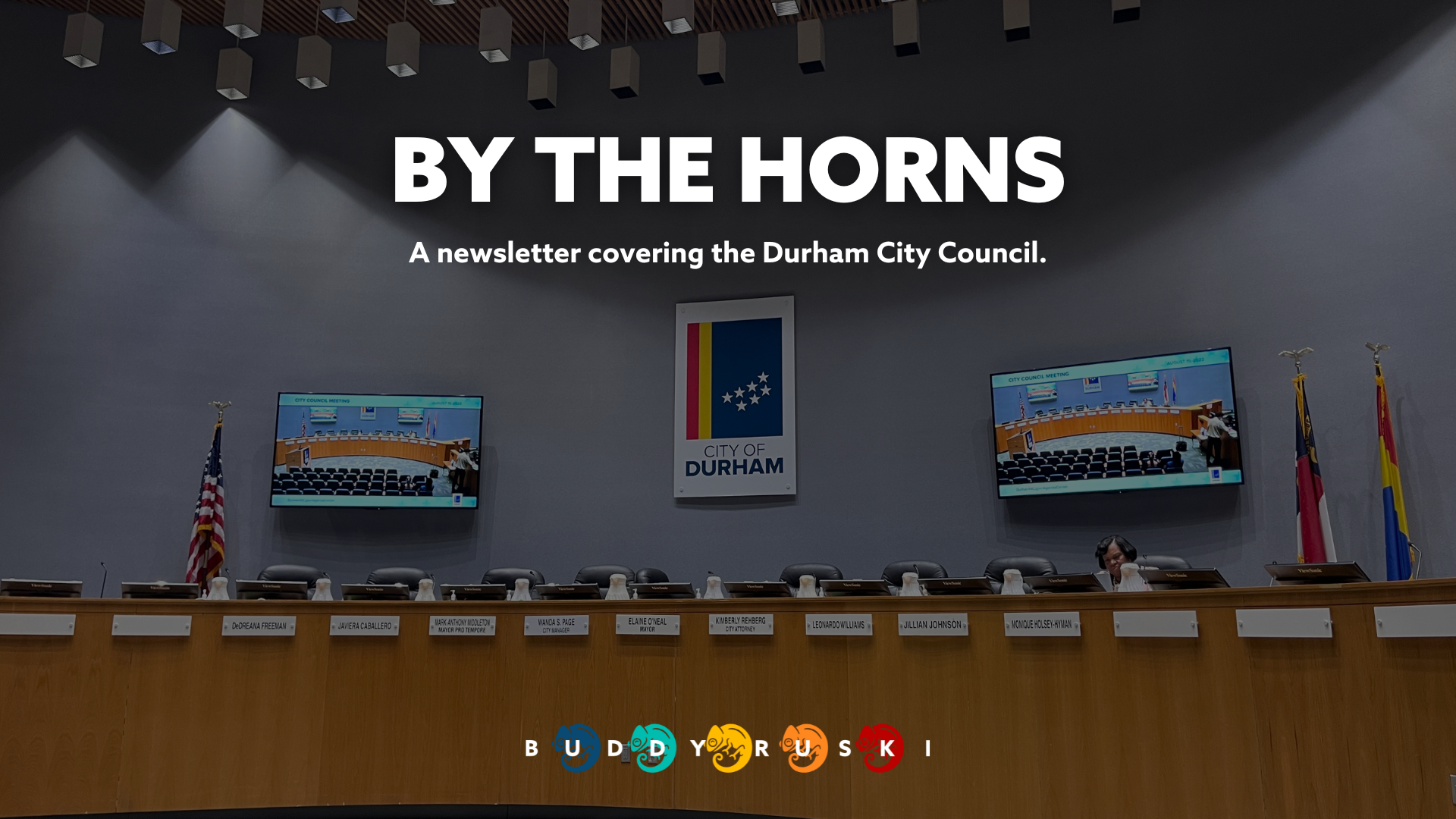 Welcome to the newest edition of By The Horns, a newsletter covering the Durham City Council. This series is intended to help guide those attempting to understand the mechanics of Durham city government, stay informed on issues throughout Durham, and learn the tools necessary to be a more engaged citizen.
The Meeting Agenda for August 21, 2023 can be found here.
The By The Horns Resource Guide can be found here.
Intro
The lone agenda item concerned the ongoing saga of the SCAD text amendments. Most folks expected a long, drawn out debate over the future of Durham's rules for development. Instead, there was a brief but familiar exchange between the opponents and proponents of SCAD that was put on hold (again) after Jim Anthony, the person whose signature is on the official proposal, asked for a 90-day continuance in an effort to smooth over any lingering concerns from residents. That request was granted. And yet, a lot still happened in an hour and a half.
Call to Order
A Brief Summary of the Meeting
A number of councilors gave their appreciation for city workers who were a part of the clean-up efforts after the August 15 storm that ripped through the city in just a short period of time.
Nothing Simple about SCAD
Before the discussion began at last Monday's meeting, a potential conflict of interest was brought forth by Councilor Holsey-Hyman. She mentioned a series of emails dating back to April that suggest a council colleague should recuse themselves from voting on SCAD due to involvement by their spouse in the development of the proposal. These concerns were raised by citizens, according to Holsey-Hyman.
"I have a fiduciary responsibility to find out what is going on. I also feel that there are just certain rules and regulations that are geared to some people and not geared to others in terms of how we deal with these things." (26:49)
Holsey-Hyman is referring to her own complicated situation involving requests for recusal that is still the subject of a larger, ongoing State investigation.
City Attorney Kimberly Rehberg offered a detailed response, laying out the parameters for recusal set by State statute including things like "direct, substantial financial gain," as well as the steps she has taken to inform city council on the matter and what action is necessary, if any. (28:08)
Eventually, Councilor Caballero made clear that she was the councilor in-question and that no recusal was necessary. She said that, contrary to the accusations made in the emails, her husband had no involvement in the development of SCAD. Both the city attorney and six other members of council saw no reason to bring these accusations to light over the last five months. Still, Stephen Knill, a co-founder of the Leesville Road Coalition who opposes SCAD and was the first speaker during the public hearing, perpetuated the accusations by saying there should be an ethics investigation into Caballero if SCAD passes and she benefits after the fact.
Of the councilors running for office, Holsey-Hyman and Caballero are the two who are not guaranteed a seat when the music stops, putting them in direct competition. Councilors Freeman and Williams, who are running to succeed Mayor O'Neal, would not forfeit their seat on council should they lose.
The SCAD text amendments have remained a polarizing issue since they were first submitted in the spring of 2022. Although there are worthwhile disagreements with the substance of the proposal, much of the discussion has devolved into attacking the character of folks involved on either side of the debate, and creating caricatures of folks to support individual interests. You know, politics.
The remaining speakers for the opponents and proponents offered little in the way of new information regarding the positions of either side. Jim Anthony, along with Bob Chapman, essentially ended public comment by asking for a 90-day continuance to build more consensus with community members.
"It breaks my heart to see how divisive this has become in the community. Durham deserves better. Bob and I have been working in Durham in my case 30 years, Bob's 50, and we've never done anything but help this community. I don't think there's anyone in this room who's ever looked at any of our projects who would say that was a mistake or that damaged anybody in this community. So it hurts us to hear the kind of conversation that's going on around this text amendment." (51:30)
The additional 90 days would put the vote after the upcoming Fall elections, which some folks, including Councilor Holsey-Hyman, suggested is the right thing to do. This would allow candidates to use their position on SCAD as even more of a differentiator on the campaign trail.
Planning Department Director Sarah Young expressed concern that further delay would conflict with the city's own process for doing a full UDO rewrite. She said the city already has a technical consultant on-board and is looking to hire an engagement consultant to "specifically bring in our entire community and do engagement on the full rewrite in a way that I hope makes this city and county proud." (1:04:27)
The planning department has offered to be available as a resource during community-led meetings about the text amendments, but have not specifically facilitated their own conversations. However, they've released multiple, detailed analysis of the SCAD proposal with comments and recommendations on each provision in the document. The most up-to-date version can be found here.
Council continued to remark on granting the extension request. Councilor Mark-Anthony Middleton, who presided over the June proclamation celebrating the 50th anniversary of hip-hop, seemed to be channeling his inner battle emcee last Monday because he had bars for all his haters. (1:05:58)
"Many of us up here have voted on text amendments for years. We read these documents, we do our homework, and we come and cast votes. So we have read the document multiple times. We have at our access the planning department that is the envy of their profession that is constantly lauded and looked to around the state and around the country. Don't take my word for it. Google it."
"As I said last time, if folk feel they need more time, I'm always going to err on the side of giving folk more time. But I also want to say something that needs to be said as well. I've spoken to hundreds, maybe thousands or people about this over the years that SCAD has been in our public square. It is clear to me that there are a lot of people who haven't read this document. It's obvious. What we have read are some pre-packaged talking points from interests on both sides of this matter. There are folk who don't want changes to their neighborhoods, NIMBY-ists, who have managed to enlist some prominent voices in our city to do their work. There are developers on the other side as well who need to be questioned."
"I also want to strongly push back against tying a land use decision or a text amendment to an election. You're getting to very touchy business with that. (Audible laughter from the crowd). Well, when President Obama wanted to nominate Merrick Garland with plenty of time left on his administration, you had folks saying 'well, we need to have an election first.' So we've got about five or six months left on this council. Is there anything else we shouldn't be doing until the next council? We have a job to do and we were elected by people to do our job."
"What's interesting to me is that for those who say they don't understand it, how do you know a new council would be better for you? Either you understand it or you don't understand it. Now, if you want a new council for something you don't understand, the implication is that you really do understand it and you want to council shop to get perhaps a better outcome. Maybe this is a council that will give you the outcome you want once you understand it."
I could hear the DJ airhorn drop in my head as he continued to wax for about five minutes. Much of the discourse in Durham this past year has felt like reality TV, so I appreciate Councilor Middleton leaning more Little Brother than Big Brother in his assessment of the important problem before us.
The status quo isn't going to work for the challenges our community faces. We need both the city and its citizens to be solutions-oriented. Our legacy can't be that we failed to act because we were too busy name calling and not, as he put it, "doing our homework." If SCAD in its totality is not the answer, that doesn't absolve us from creating and presenting effective alternatives.
Perhaps it's best that city planning absorb the SCAD issue. They're more neutral than most of the folks participating in the discourse as it stands today. But can they, through their own engagement with citizens, get a different outcome? Or will the full UDO rewrite, something that many people have said we desperately need, suffer from the same toxic atmosphere as SCAD?
Additional Items
There is a joint City-County public hearing tonight at 7pm in City Hall. The two governing bodies will receive comments on the Comprehensive Plan. You can attend in-person (if you're reading this, it's too late?) or watch online. Here's the agenda.
According to the city website, "The Comprehensive Plan is Durham's statement of how we want to grow and develop. The plan guides where and how private development should occur. It guides how the City and County should provide public facilities and services to support future growth. The plan is long range in scope, focusing on the ultimate needs of the community rather than the pressing concerns of today."
Housekeeping
Remember that exciting update I mentioned last newsletter?
Crazy, right?! Starting on Tuesday, I'll be a full-time reporting fellow with the INDY for a year.
You have questions, I know. Same!
It all happened quickly so bear with me. I will give my own comprehensive plan on how this effects By The Horns, Buddy Ruski as a whole, and of course, what to look out for on the print and digital pages of the INDY in the days and weeks to come.
For starters, THANK YOU. Thank you thank you thank you. So many people have reached out with such kind words about my work and this opportunity. I'm feeling the love, y'all.