Urban Ministries and PictureDURM team up for photo project
Urban Ministries of Durham and PictureDURM have partnered for a second time to uplift marginalized voices in Durham.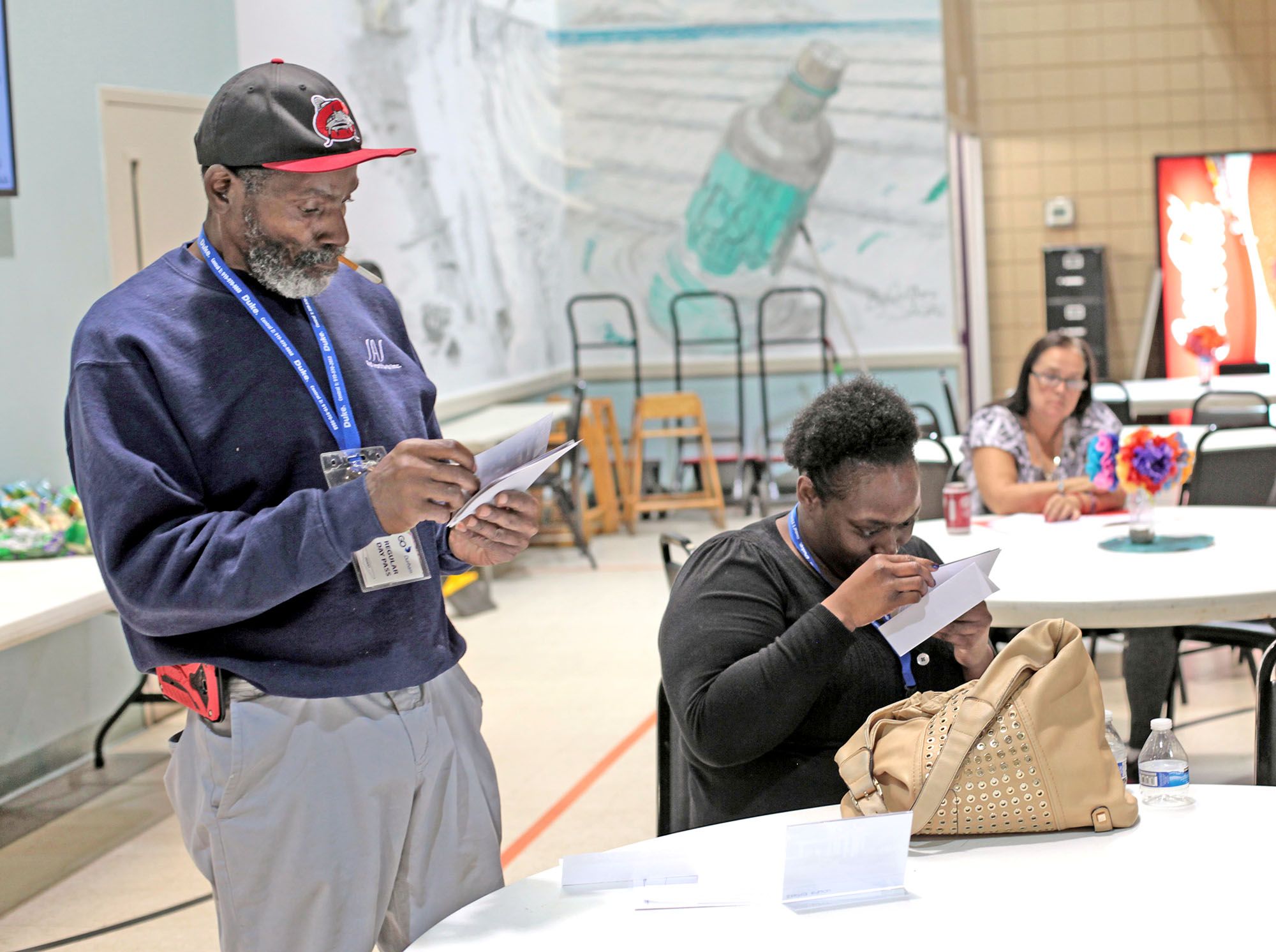 In a changing Durham, perspective is key. While recent development throughout the city has allowed many residents to prosper, there are those whose voices have been marginalized in this growing metropolis, fighting to stay on their feet as gentrification and other urban renewal projects take effect.
Urban Ministries of Durham and PictureDURM have partnered for a second time to uplift those marginalized voices. The two organizations worked together to provide cameras for participants in the UMD workforce development program and incentivized them to venture into downtown Durham (within two miles of UMD) to document their journey. Participants received two bus passes, donated by GoTriangle, upon first receiving their cameras, and earned a $5 Walmart gift card upon return of the cameras once pictures were taken. Sixteen people took part in the project. Each photographer was presented with a printed set of their photos, one of which was framed as a keepsake.
"It has been really powerful to get cameras in the hands of Urban Ministries residents and let them share their story for themselves rather than having someone else tell it for them," said Meredith Martindale, longtime Durham resident and founder of PictureDurm.com, a website created to curate photographs online and answer questions about the city's growth and whether "we are keeping what makes Durham, Durham." Since the website's creation, over 12,000 photographs have been curated using the hashtag #picturedurm on social media or submitted via email. Many of the photos are of life in Durham's recognizable areas like American Tobacco Campus or Duke University, highlighting the growth taking shape across town. In contrast, the outskirts of downtown near Urban Ministries tell a different story, one that Martindale hopes is illuminated by her partnership with UMD.
"It has given them dignity, and it's also opened the eyes of a lot of Durham residents, too. I'd call it a win-win," said Martindale.
Even within the walls of Urban Ministries, the narrative about Durham's evolving landscape is up for debate.
"I took photos of things that bothered me or things that I can't have," said Tyrone Mercer, an associate with the workforce development program. His photograph subjects varied from the jailhouse within eyeshot of the facility, to the lawn signs that read "rent starting at $1300" outside The Mark, a new apartment complex only a couple blocks from UMD.
"They won't let me in there," said Mercer begrudgingly as he continues to flip through his photographs.
Mercer illustrates a story familiar to many citizens in Durham. As growth continues, so does the rise in cost of living, pricing residents out of new homes and apartment complexes similar to The Mark.
Not everyone sees the change as a negative. Ikeyia Burton is a Durham resident who recently graduated from the workforce development program at UMD. Her photographs mostly highlight construction projects including Durham County library and One City Center. As she sifts through her photographs, her face illuminates while she shares the stories in the moments she has captured. "My family used to work at Golden Belt back in the day," she said enthusiastically.
Burton plans to continue her education and pursue a degree in fashion and marketing at the Arts Institute of Raleigh-Durham after she leaves UMD.
"I went through a little trials and tribulations but I can see the light now."
---
Originally posted at The Durham Voice in partnership with North Carolina Central University.