By The Horns | April 12, 2023
After weeks of tragedy and turmoil, a much-anticipated council meeting left many with more questions than answers.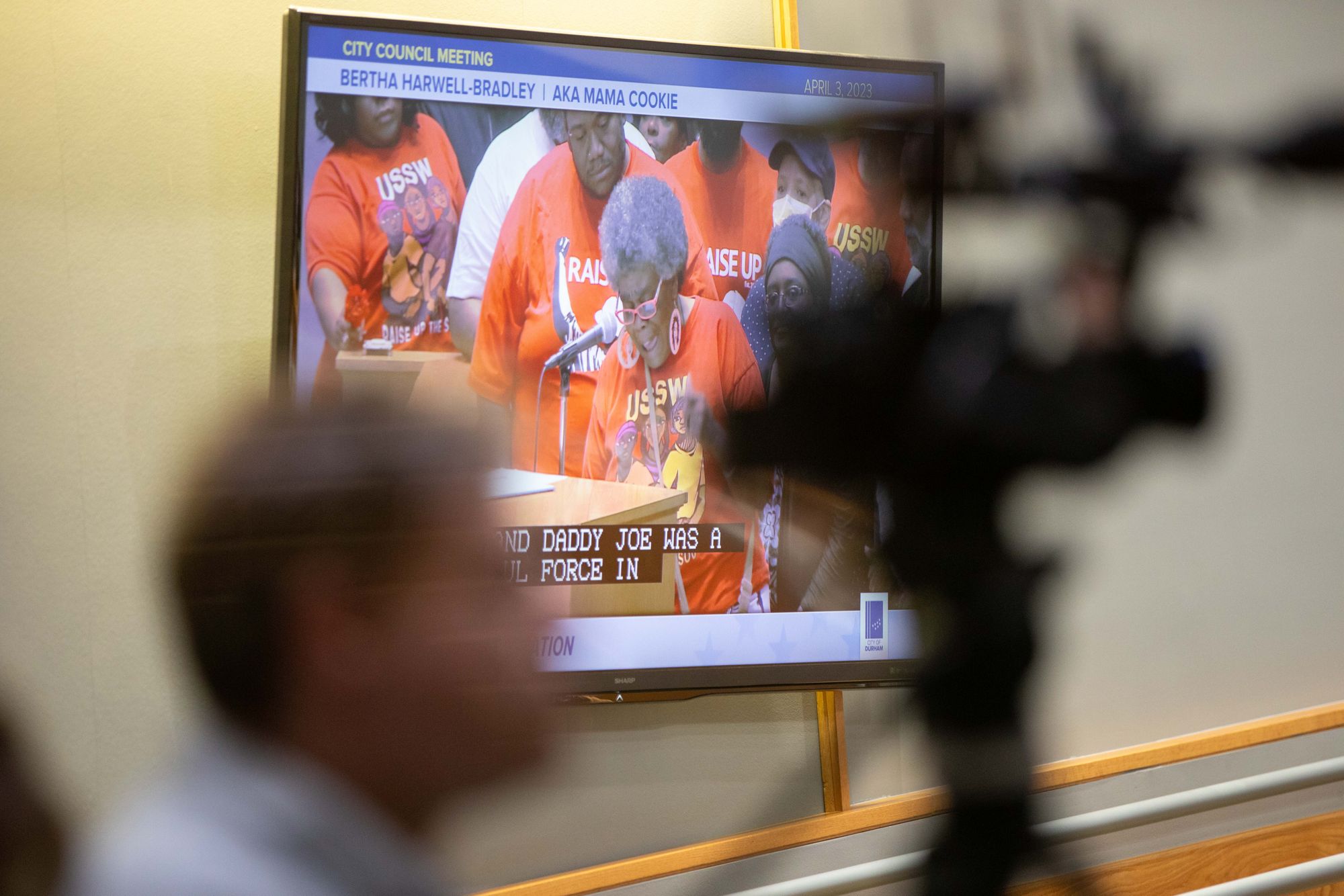 Welcome to the newest edition of By The Horns, a newsletter covering the Durham City Council. This series is intended to help guide those attempting to understand the mechanics of Durham city government, stay informed on issues throughout Durham, and learn the tools necessary to be a more engaged citizen.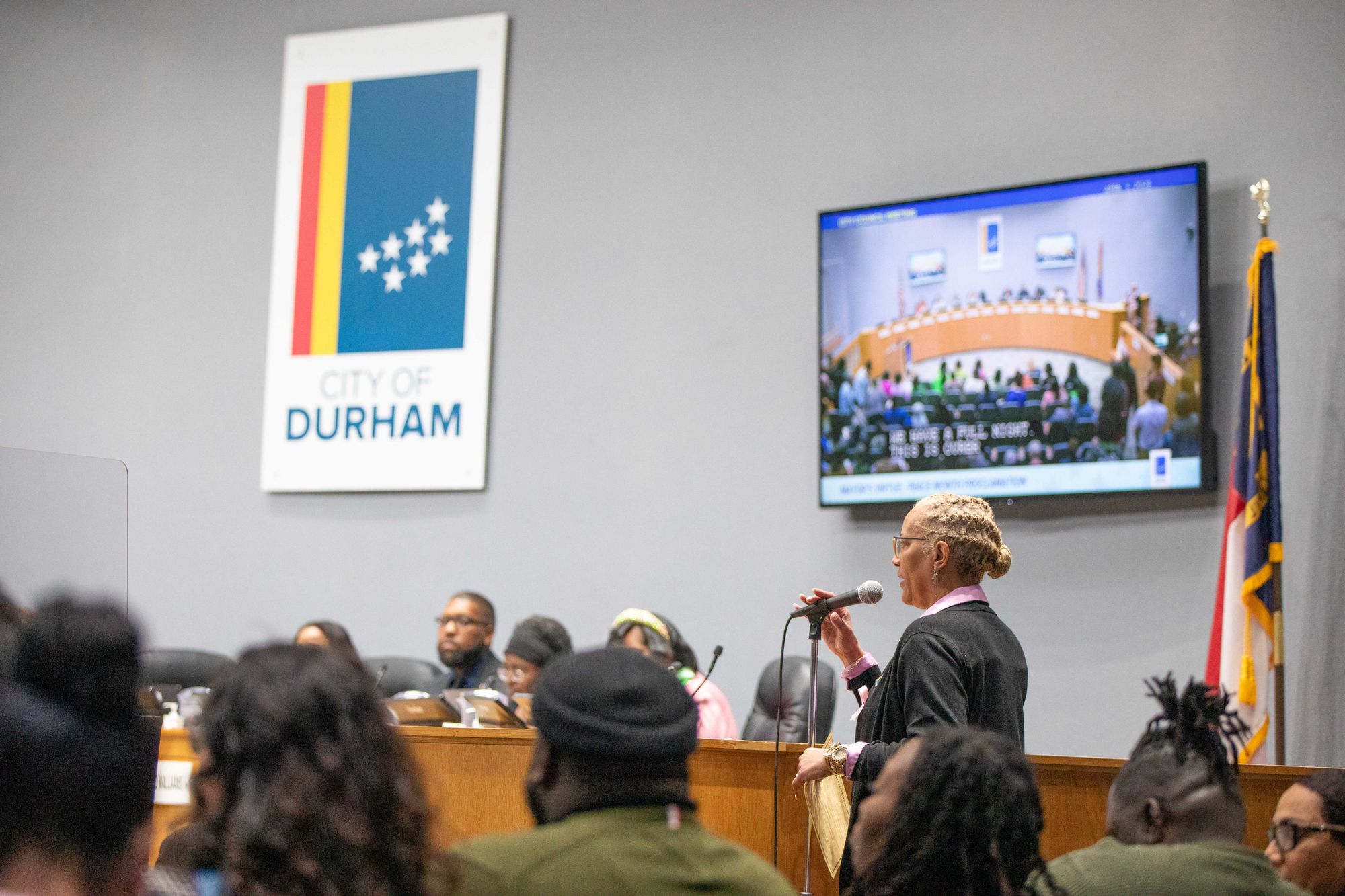 The Meeting Agenda for April 3, 2023 can be found here.
The By The Horns Resource Guide can be found here.
Intro
After weeks of tragedy and turmoil, a much-anticipated council meeting left us with more questions than answers. Mayor O'Neal may want to turn the page on what's happened recently, but this story is far from over.
Call to Order
A Brief Summary of the Meeting
The virtue for the month of April 2023 is Peace.
John Allore, Durham's budget director, was killed recently while biking in Orange County. Mayor O'Neal and City Manager Wanda Page shared remarks in memory of Allore. (4:04) In the last edition, I wrote about the budget hearing where members of the community urged council to increase spending on traffic safety.
Bertha Harwell-Bradley, affectionately known as "Mama Cookie," was recognized for her longstanding commitment to social and economic justice. During the early pandemic, Bradley created the "FED UP" food distribution network to support those in need. (6:55) Prior to the meeting, members of the Union of Southern Service Workers rallied outside City Hall before entering for the proclamation.
Truth & Reconciliation
This is the second meeting in a row where the chamber was overflowing. Folks representing Alpha Kappa Alpha and USSW, along with neighbors speaking on behalf of the 2201 West Cornwallis development, packed City Hall. News cameras from ABC11, WRAL and CBS17 lined the back of the room. More people looked on from the chamber hallway.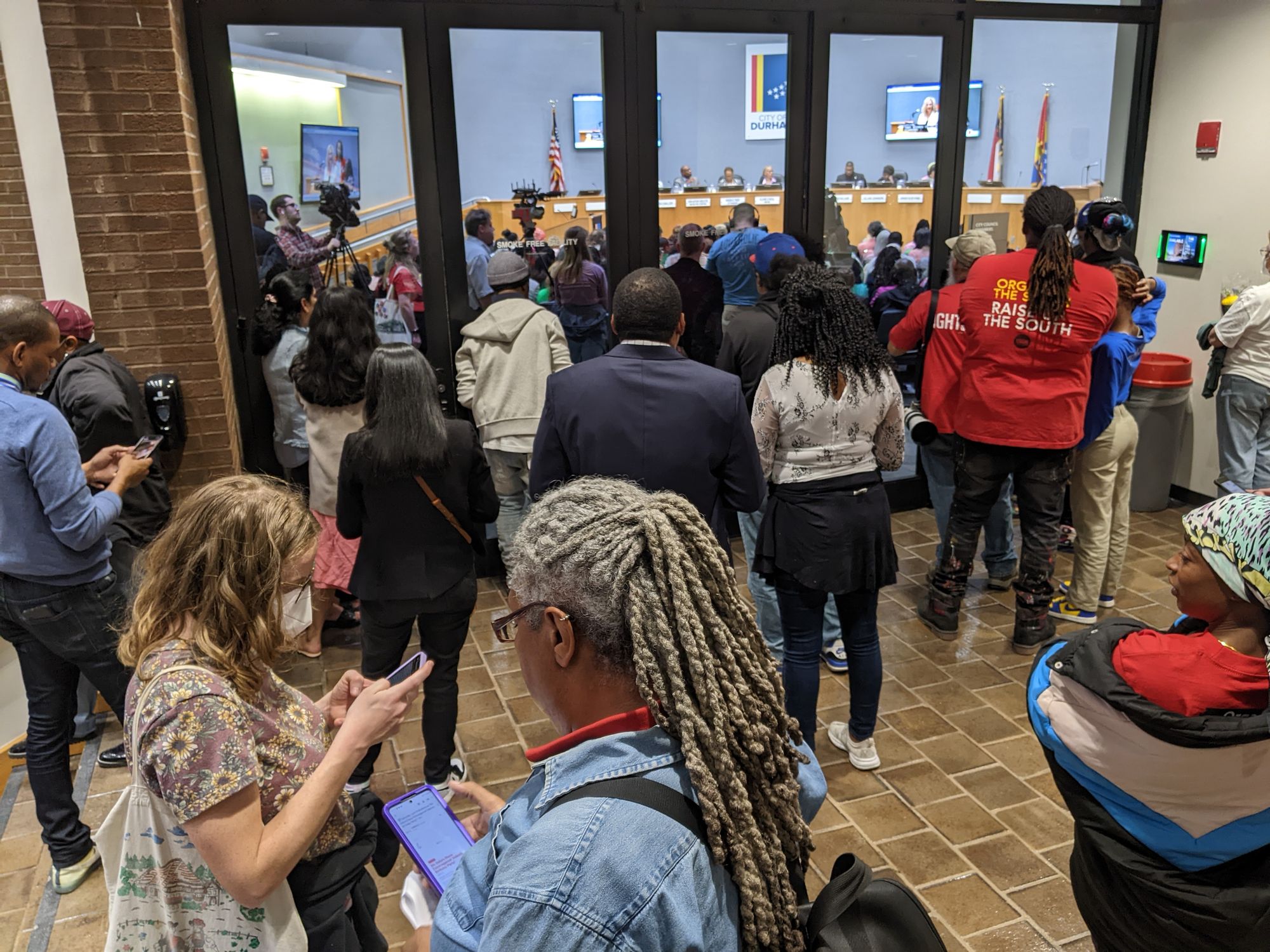 The peace proclamation issued by Mayor O'Neal was a not-so-subtle indication that she and her colleagues were ready to move past the recent turmoil that's plagued Durham city government. (33:44)
"Whereas the purpose of Peace month is to remember that violence and retaliation in any form are never the answer, whereas we all experience hardships and how we respond is what dictates our character, and whereas when we remain relentless in our optimism, we can better recognize growth and conceptualize the gap and opportunities for the advancement of all people, and whereas we should make peace our priority when making decisions, we should be mindful of how our actions affect others during our day-to-day activities and be aware that everyone deserves life, happiness and peace…"
Other members of council made similar allusions to the recent news, starting with Councilor Holsey-Hyman who shared a story about assisting a father facing eviction, capped by the following:
"When I put my name in the hat to be a city council member, it was about service. It was not about a title, it was not about power, it was about service. So I'm going to leave this with people; passion, collaboration and service for all people of Durham which is in my heart, thank you." (39:00)
Mayor Pro Tempore Middleton also shared a personal anecdote about his recent trip to D.C. where he visited the Lincoln Memorial, a ritual of his for whenever he's in the area. Middleton said that the closing words of President Lincoln's second inaugural address strongly resonated with him on this particular visit.
"He said, 'With malice toward none, with charity for all, with firmness in the right as God gives us to see the right, let us strive on to finish the work we are in to bind up the nation's wounds…' We've had some wounds. Today, I'm so grateful Madam Mayor that you've read that peace resolution. I want to say after reading that, I accept your challenge… Let us move forward to bind up the wounds of our city and get to work and as we do it my commitment to you and I hope our commitment to each other is we will do it with malice toward none and with charity for all." (42:36)
Following those remarks, Mayor O'Neal made more direct comments to the allegations facing Holsey-Hyman. She shared details about her correspondence with professors from the UNC School of Government who she asked for guidance from on this issue. Professor Robert Joyce laid out four potential options for the council.
The council could decide that no action is called for at this time.
The council could decide that since the allegations involve possible criminal conduct, the matter should be referred to law enforcement with no further council action.
The council could discuss the matter in open session and vote to censure the council member involved. A vote of censure carries no legal consequences.
The council could decide that in order to be in the best position to protect the interests of the city, an investigation should be undertaken because the result of such an investigation could conceivably lead to consideration of removing the council member involved from the board.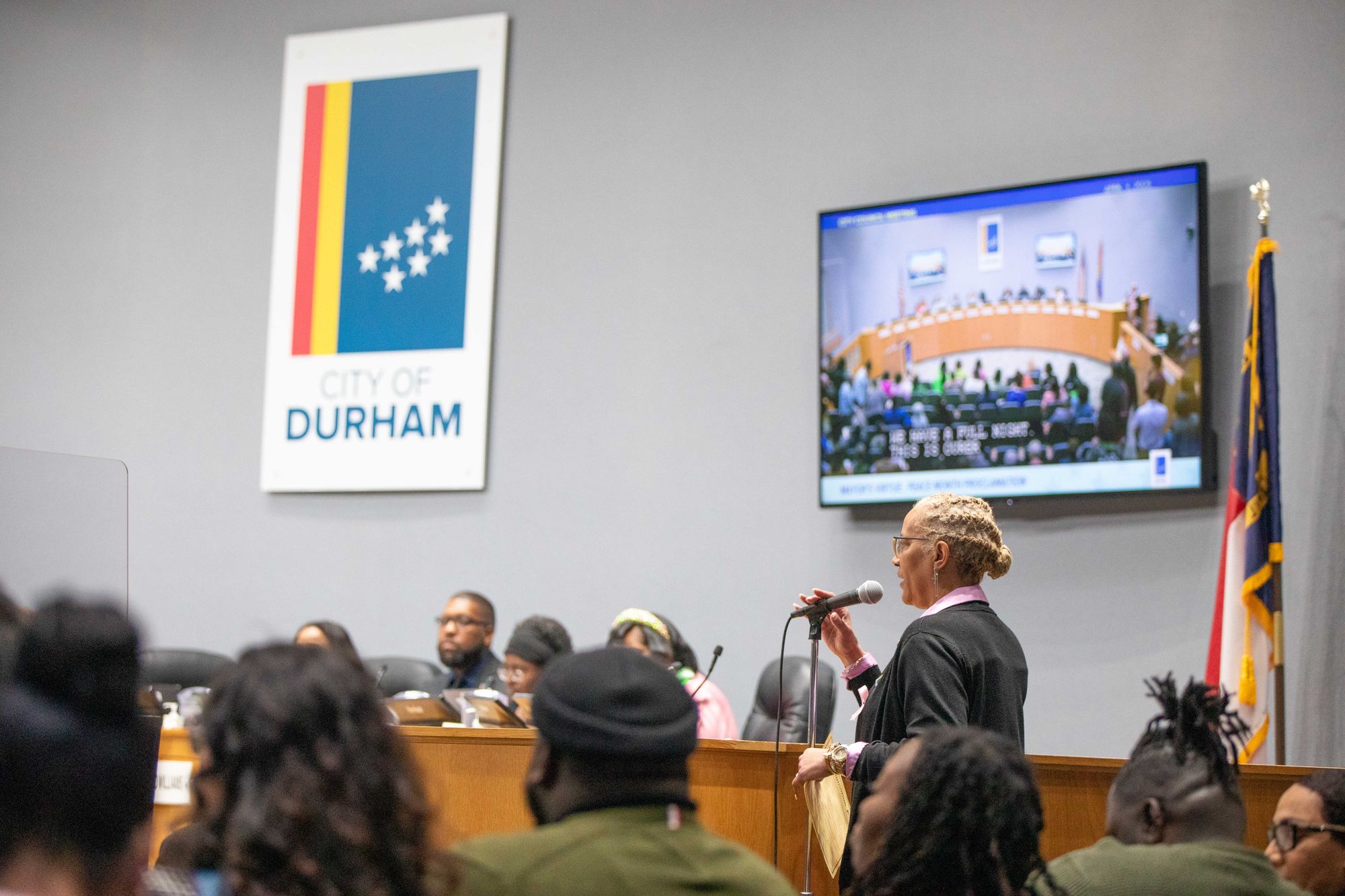 After reading this email correspondence into the public record, O'Neal made a final statement on the issue.
"That matter has been referred to the appropriate authorities. Those authorities will investigate those allegations. During the period of and until the conclusion of that investigation, I would ask all of Durham residents to stay focused on the issues that face us. Likewise, I would request anyone who is contacted by those authorities to please act truthfully in accordance with any questions that you may be asked. We as a council, our task was seeking and enacting policies that enhance the growth and safety of all our residents. This is a heavy lift. When we think about the challenges that we all face: crime, affordable housing, and the rapid growth of our city, to name a few, Durham has been faced with daunting challenges before and we as a community are well able and equipped to meet those that stand in front of us but we must remain focused and diligent to make sure that Durham is a community that is truly a safe place to live, work and play. As your mayor, I am committed to this cause and I ask that we allow law enforcement to do its job while we continue to stay focused and move our city forward. We can do this because we are Bull City strong. We are Bull City strong. I will be making no further public comments on this issue while it is under investigation and I would ask all to do the same." (45:43)
The members of Durham City Council find themselves in a predicament. Mayor O'Neal is right; the issues facing Durham are a "heavy lift." Their commitment to duty is admirable. But whether city leadership wants to talk about these allegations in a public forum doesn't erase them from the public conscience. Surely, the shroud of mystery these allegations have created could impact how folks interpret decisions made at the meetings, how they analyze relationships between members, and ultimately, how they vote in this year's elections. That's right. It's an election year, folks!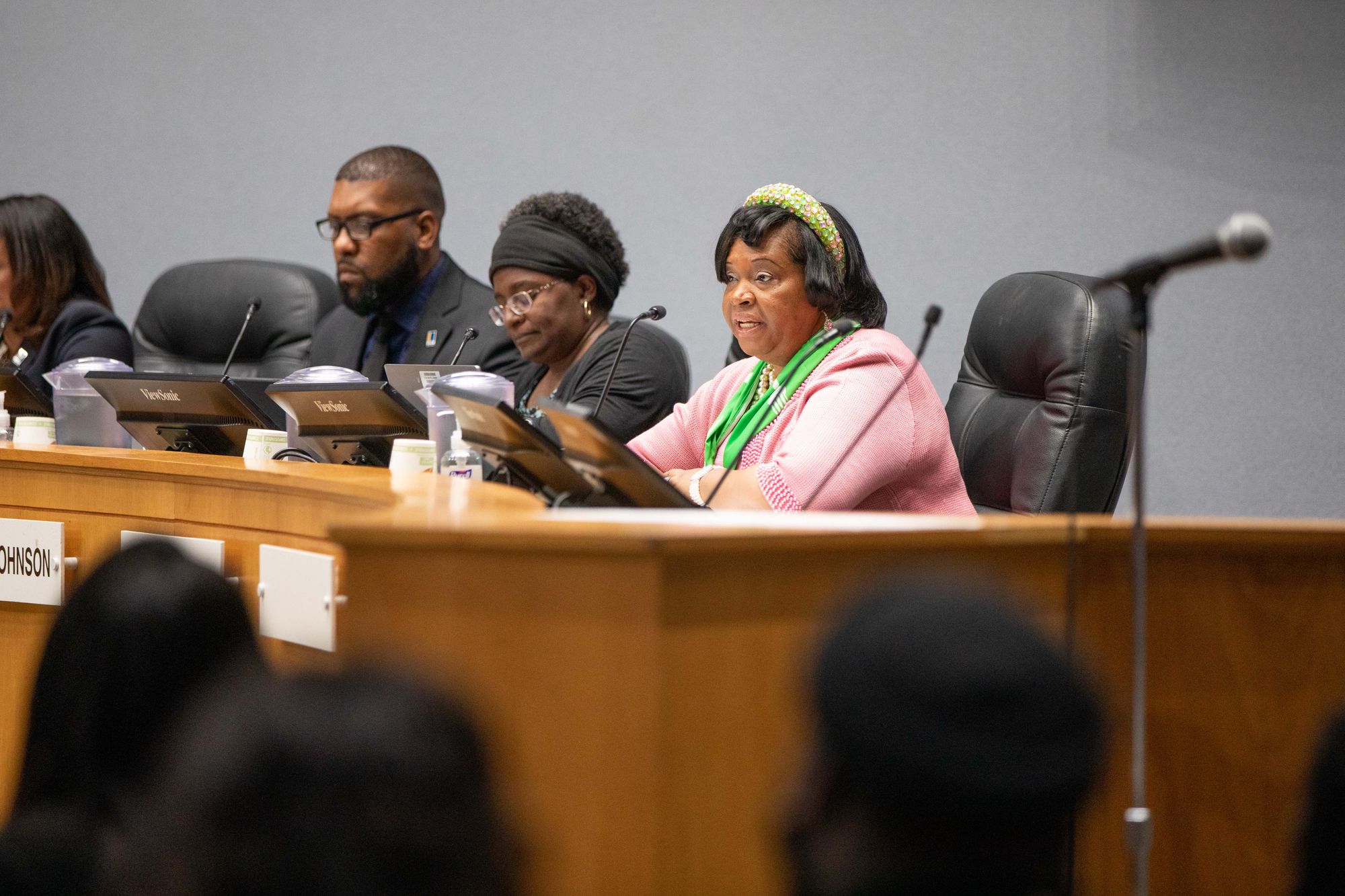 If you're still playing catch-up, Mary Helen Moore from the News & Observer has compiled a comprehensive summary and timeline of the events that started with the initial allegation from a still-unnamed developer to city staff, and follows through until the April 3rd city council meeting.
Quick Rundown of Development Items
1300 Old Oxford Road
Katie Hamilton, director of design at Gander Development, represented a 6.25 project in the Oxford-Hamlin neighborhood. Women rarely represent any part of the development process in these meetings so it was refreshing to see Katie up at the podium. Not to mention that her project was well-received by neighbors who spoke highly of the development team and their collaboration with the Oxford-Hamlin coalition. (1:09:14)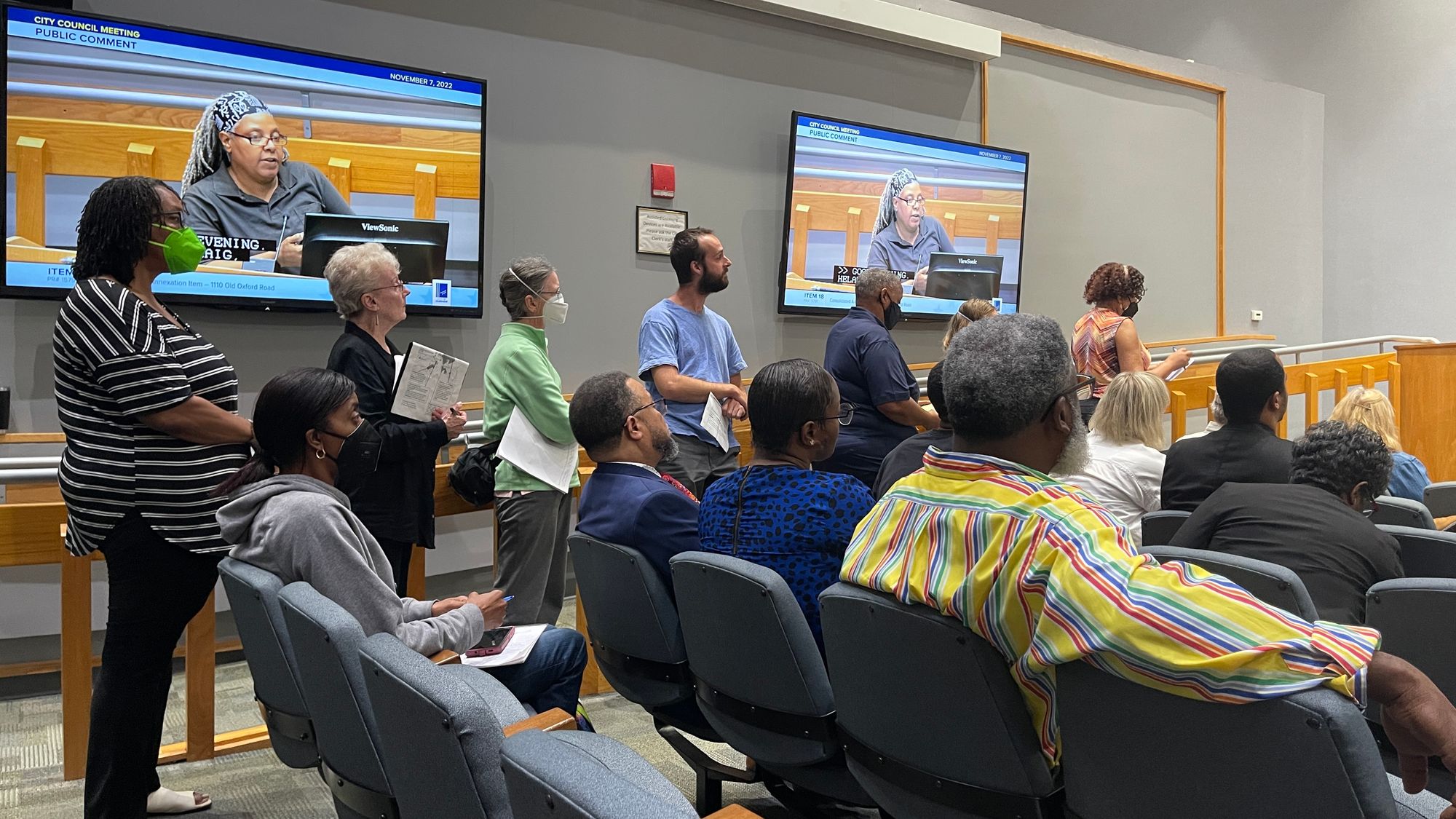 2142 East Geer Street
Srinivas Gurram, an immigrant from India who moved to Durham with his wife in 1998, has operated a couple of convenience stores in Durham for 20 years and is hoping to expand his family business. In a meeting full of noteworthy moments, perhaps the most shocking was that Pamela Andrews, member of Preserve Rural Durham, called in to speak in favor of the project. IN FAVOR! "I'm a proponent tonight. I know it's hard to believe." (1:34:07) I almost fell out of my seat, Pam. You never know what to expect at a Durham city council meeting.
When a No-Brainer Scrambles Your Brain
Representatives from Stewart Inc. proposed a zoning map change for 7.487 acres of land at 2201 West Cornwallis Road to develop up to 90 units of 1-bedroom and studio apartments. The site is tucked away between an entrance to the 15-501 highway and the Canterbury subdivision.
Here's a Google Map Street View. (It won't show in the email).
The applicants opened the discussion by illustrating to council how they plan to mitigate neighbor's concerns around things like traffic safety, offering alternative transportation options and on-site e-bikes provided by the property manager. (1:49:34) Ernie Brown, one of the applicants, said that he is an "avid e-biker" and has biked to the site himself. He believes the e-bikes "can help people make their paychecks go further by using it as an alternative," citing the success of the city's Bull E-Bike program. (3:03:15)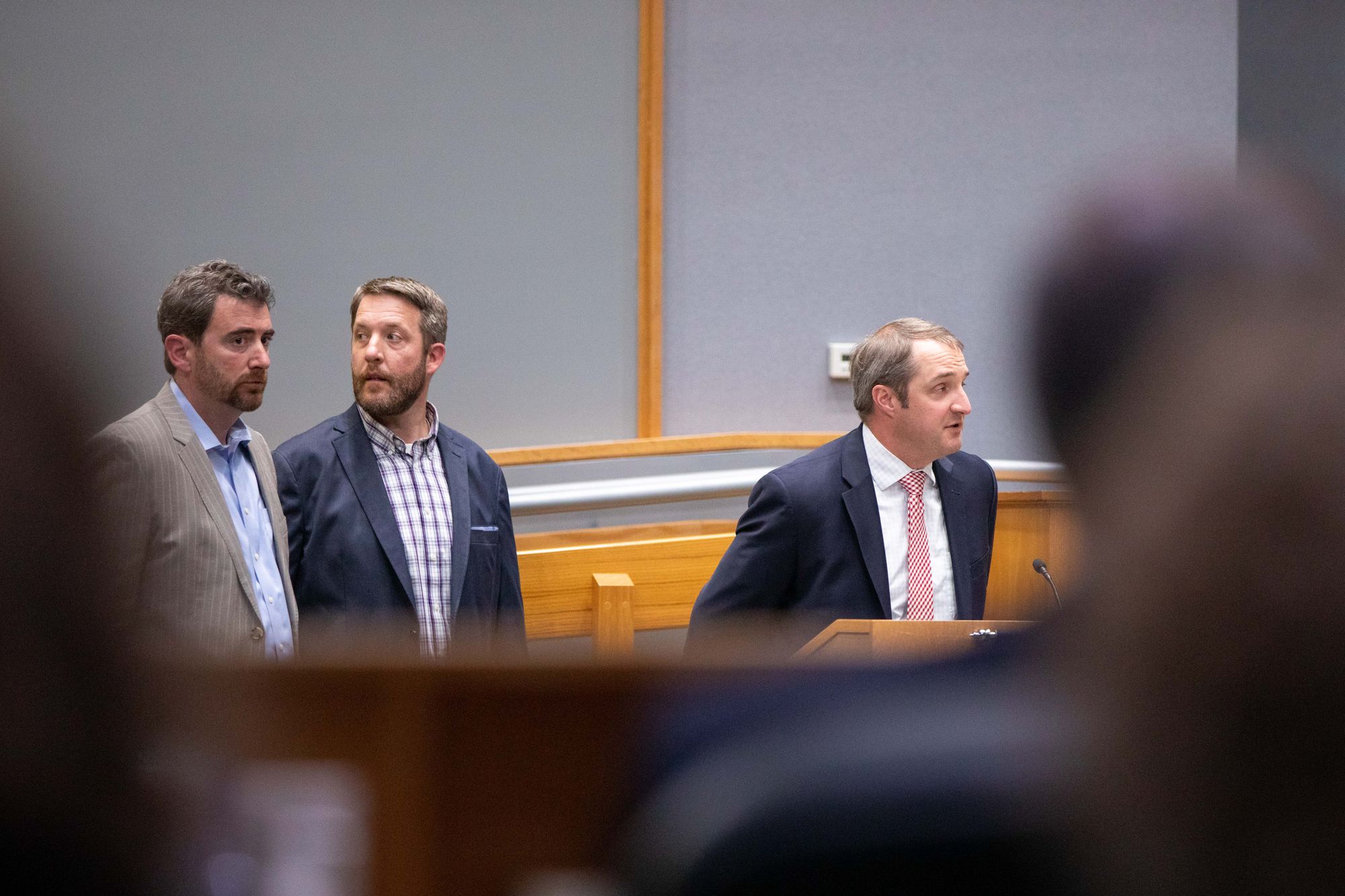 Cornwallis Road is a highly trafficked thoroughfare, a point that was consistently reiterated by opponents of the project, both online and in-person. Alan Dippy, one of the neighbors who spoke in opposition, said that he used to bike on Cornwallis Road often on the way to Duke before changing his route for safety reasons.
"When we're considering a development that's attempting to work around a dearth of adequate required vehicle parking by providing e-bike and scooter availability, I think we have to look closely at the roadway in terms of safety for all users. While I'm generally a huge fan of anything that gets more folks on bicycles in our city, I think that this attempt to paint Cornwallis Road as some sort of bike- and scooter-friendly facility is just flat our inaccurate." (2:09:59)
My nephew goes to school not far from the site. I texted my mom during the meeting to get her opinion. She gave written consent for me to share the following:
"That's dumb. Such a weird spot. Tell them they better do something to help control how fast people drive in that area."
I often pick up my nephew from school, so I'm familiar with the corridor. Alan Dippy and my mom are not wrong. Things get wild.
Given the location of the site and the number of folks in opposition, the proposal seemed doomed to fail. Council had a different outlook. Because the original zoning would have only allowed for six single-family homes and a drive-thru restaurant, getting 90 apartment units, even at an average of $1,800 a month, was a clear win.
"I'm always fascinated by these conversations because a lot of the arguments made would preclude where you live from being built. In many ways, these discussions actually some of the arguments that are made were the same arguments made before your house got built. So we as a council have to continually manage that tension between those that are here and those that are coming because they are coming and we can't stop that." - Councilor Middleton (3:08:11)
Council voted 4/3 in favor of rezoning.
An(other) Update On SCAD
Two things.
There is a "community conversation" happening at Holton Career & Resource Center on April 15 from 10 am - 12 pm. You can find details about the event somewhere in the ether a.k.a. Twitter or your neighborhood listserv because it's not on Holton's website.
A new document has been provided to help us laypeople better understand the SCAD text amendment proposal. Here is the disclaimer from city staff:
This document provides a detailed analysis of the proposed text amendment provisions, including describing each change and how it is different from the current ordinance requirement, where the change applies, what the applicant's intended purpose is behind the change, and a staff recommendation. Please note that the statements regarding the purpose of the changes were written by the applicant and are not the work of staff.
You can find the document here.
CIVICS 101 - Elections
Four members of council are up for re-election this year: Javiera Caballero, Jillian Johnson, Monique Holsey-Hyman and Elaine O'Neal. These are the three "at-large" seats and the mayor's. Certainly, council behavior with regards to the recent news will be a topic of discussion for many voters and the incumbents' potential competitors.
More to come on the mechanics of city council elections, including who's running, how to run yourself, and what the implications are for each available seat.
Additional Items
No additional items this time. You've already slogged through 2,000 words. Pretty sure my watch just told me it's time to stand up, anyway.