By The Horns | August 17, 2022
How do we tackle current housing issues without sacrificing environmental concerns that could plague us all?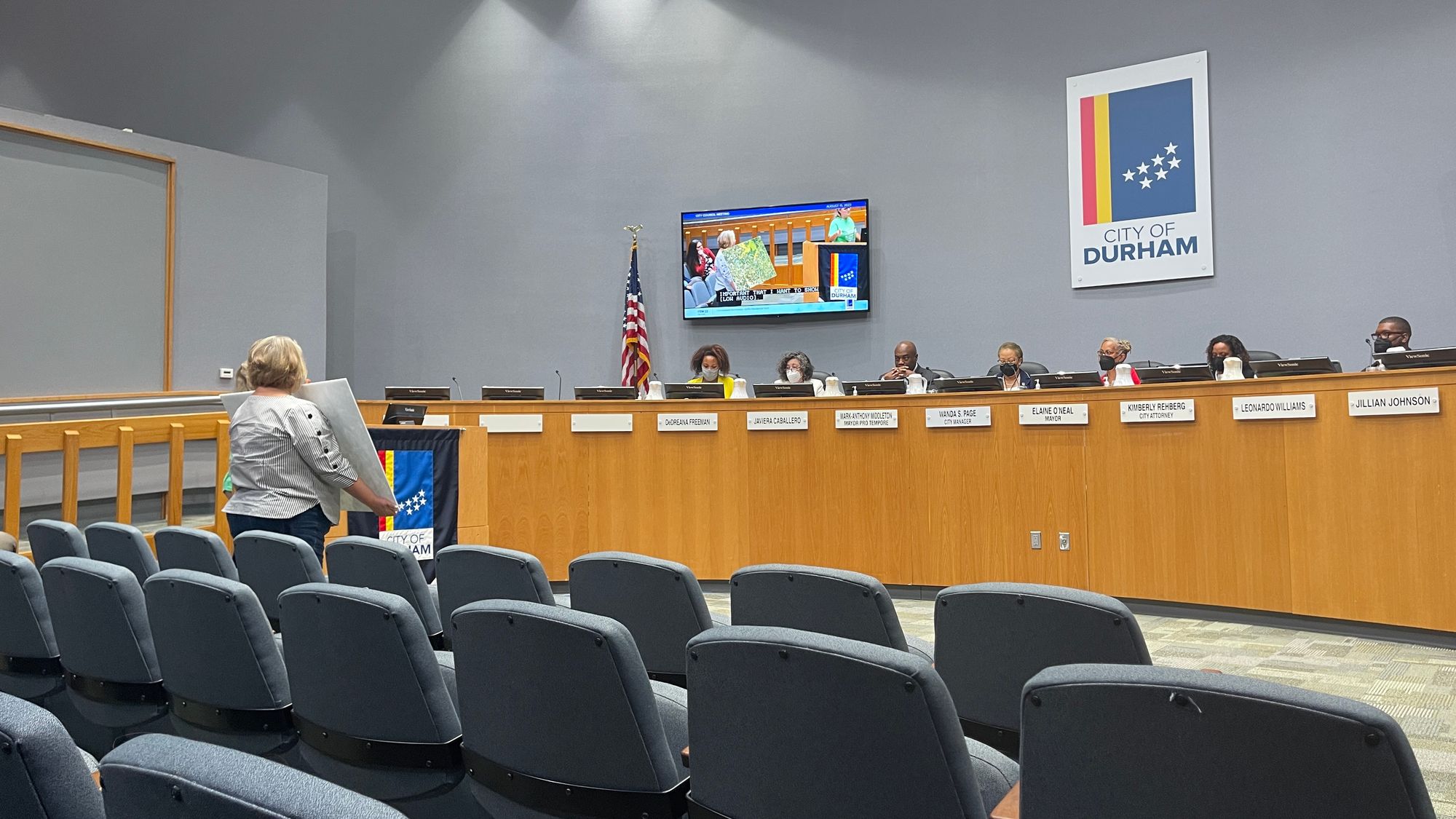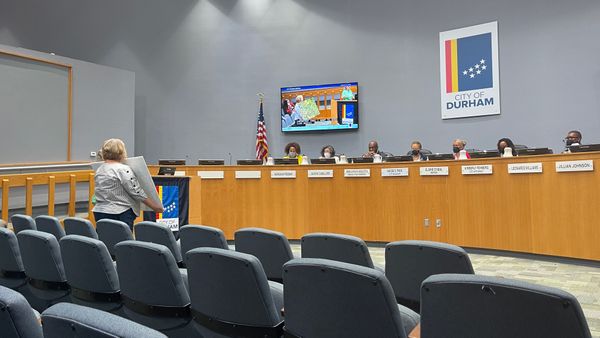 Welcome to the first edition of By The Horns, a newsletter covering the Durham City Council. This series is intended to help guide those attempting to understand the mechanics of Durham city government, stay informed on issues throughout Durham, and learn the tools necessary to be a more engaged citizen.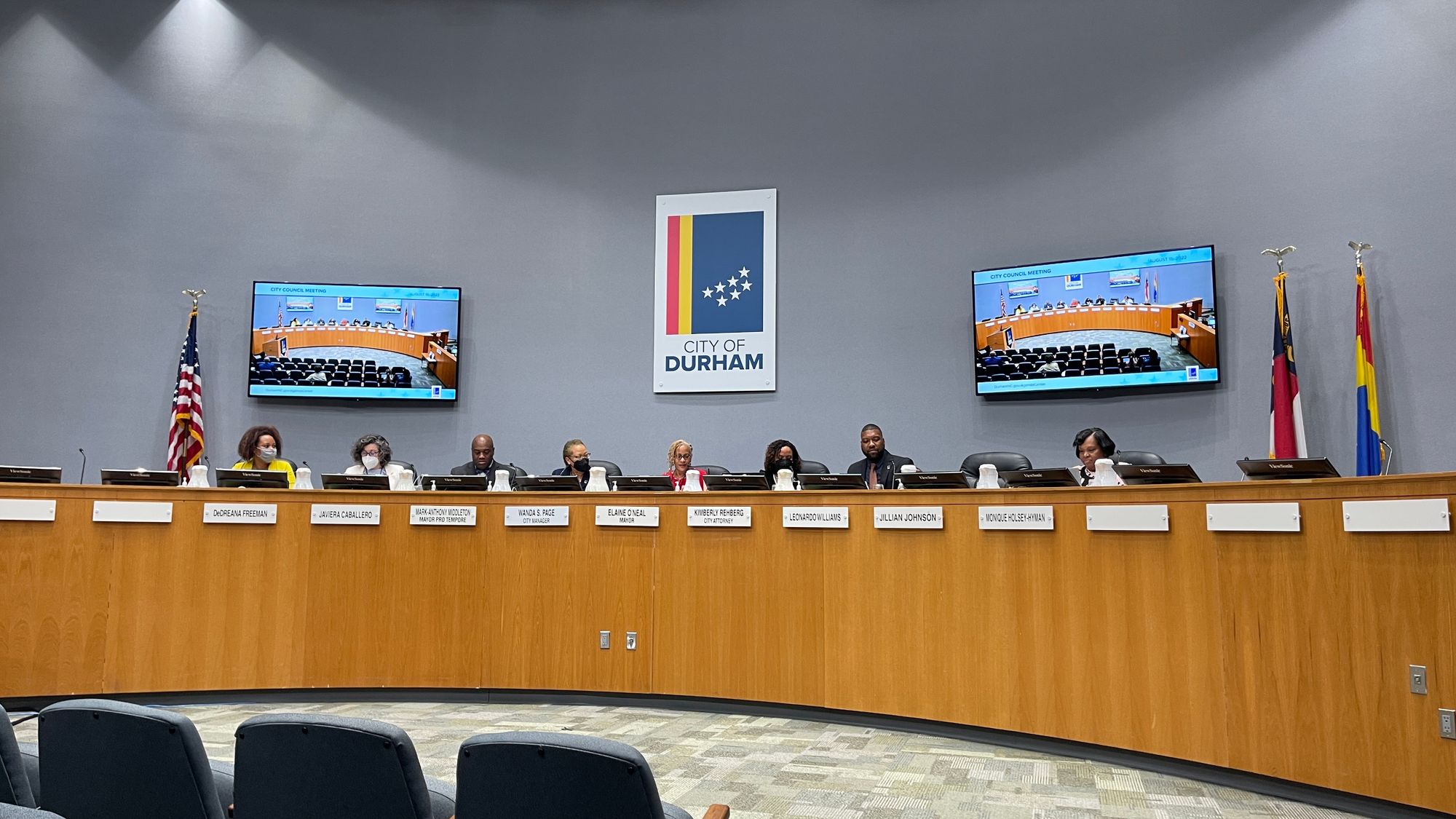 As I mentioned in the preview, this series will be a learning experience for everyone, myself included. Not even the members of city council have a complete knowledge of all that happens in this city. Expect to follow-up on information you get here.
The Meeting Agenda for August 15, 2022 can be found here.
Member Absences and The Consent Agenda
The notable absence from Monday's meeting was Councilperson Jillian Johnson, who was awarded an excused absence by unanimous vote from her colleagues due to illness. I assumed Johnson would not be sent to detention for an unexcused absence. A former City Council member clarified the specifics around absences:
Council rules require the council to vote to approve an excused absence by a council member.Without that vote, it's an unexcused absence. Mostly, it's a matter of public perception, but the council rules also contain a provision that says that a member's unexcused absence from five consecutive meetings operates to vacate the seat. I'm not sure that's operative (there may be state law or city charter provisions that override that) but that's what the rules say. Primarily, council members ask for and receive excused absences as a courtesy to their colleagues.
Here is a link to the official City Council Procedures. Going forward, you can find items like this in the By The Horns Resource Guide.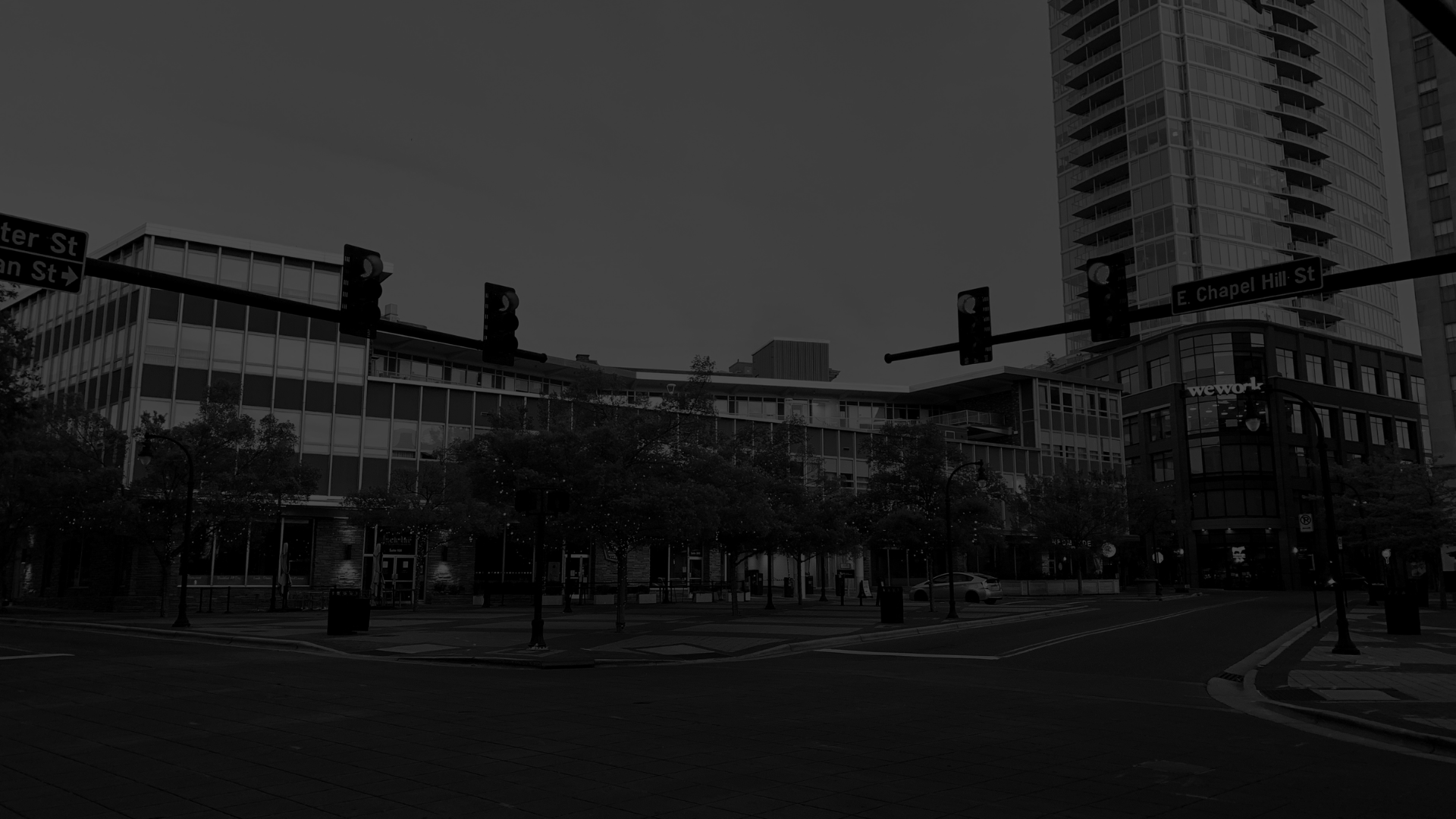 The absence of a member can play a significant role in the outcome of an agenda item, as we'll learn later in the newsletter.
After a few additional items from the Mayor, the proceedings moved into the reading and approval of the Consent Agenda.
CONSENT AGENDA
"The content agenda consists of items that the council has previously considered in a work session. All items on the consent agenda may be approved by a single vote of the council. Items may be removed from the consent agenda by a council member or a member of the public. Those items will be considered separately at the end of the meeting." For more information, check out pages 4-6 of the City Council Rules of Procedure.
There were no pulled items from the Consent Agenda, moving us into the General Business Agenda shortly after. Here, specific items already pulled by the council or a member of the community are brought forth for public hearing and discussion.
Preserving Durham + Developer Collaboration
Harriet's Place II | 312 East Umstead St and 1206 Dawkins St
The first item concerned Harriet's Place II. The building is the site of the former Harriet Tubman YWCA and a half-block from the recently redeveloped Whitted School.
Reinvestment Partners, a local nonprofit whose mission "is to foster healthy and just communities by empowering people, improving places, and influencing policy," bought the building in 2019 a week before it was set to be demolished. The group's executive director, Peter Skillern, joined the council meeting via ZOOM to elaborate on the need for an amendment to the original development plan. Reinvestment Partners is attempting to add the building to the National Register of Historic Places.
Councilperson Williams asked Skillern about the potential for rental vs ownership of the units being developed, and "encouraged" Skillern to speak with other developers in the area to create a more cohesive plan for the neighborhood aside from the individual units each developer is responsible for.
"I know us as a city, we are trying to take a deep dive into housing so that we can have a vision, but right now, things are popping up all over the place. So we gotta do our part as well. Thank you for offering this affordable option. But in the meantime, I hope that there can be some collaboration in preserving and growing and redeveloping communities together as you all are building our city." (40:30)
Williams reiterated this point to me after the meeting.
Councilperson Freeman said she has spoken with neighbors about Harriet's Place II and relayed their potential concerns with the development. In the meetings I've been to recently, Freeman is often the "voice of the people" and seems to speak to lots of community members about their concerns.
An elevator tower on the back of what would otherwise be a vacate building seems like a small price to pay for affordable housing in that neighborhood. Building the density we need in Durham will come with some compromises.
But not all things are easy to compromise on, as we saw later in the evening.
🗳️
The Council voted unanimously, 6-0, in favor of both motions #1 and #2.
Courtyards at Farrington Road
The council considered annexing Courtyards at Farrington Road into the city limits and authorizing the City Manager to "enter into a utility extension agreement" with EPCON Communities, the developer. The group specializes in what Nil Ghosh, the lawyer from Morningstar Law Group who represented the development at the meeting, called "age-targeted" housing, which I understood as old people homes. Don't worry. Time comes for all of us.
The group already has a development near The Streets at Southpoint.
This project was voted on without much fanfare.
🗳️
The Council voted 5-1 in favor of motion #1. Councilperson Freeman voted no.
🗳️
The Council voted 4-2 in favor of motion #2. Councilpersons Freeman and Caballero voted no.
🗳️
The Council voted 4-2 in favor of motion #3. Councilpersons Freeman and Caballero voted no.
Listen to The Buddy Ruski Show
A podcast about origin stories.
Subscribe.
Current Housing Needs VS Future Environmental Issues
Griffin Residential Tract | Leesville Road and US 70
🕰️
This item alone took nearly two hours.
The CSC Group, a local development firm, was looking for similar considerations from council: annexation into the city and a utilities extension agreement, as well as an amendment to the Unified Development Ordinance (UDO). The proposed development site is located at 4903 Leesville Road and 2755 US Highway 70.
In opposition stood members of the group Preserve Rural Durham, who cited water quality issues already plaguing the southeast Durham community that could be exasperated by the new development.
Three members of PRD were in attendance: Donna Stainback, Pam Williams, and Pam Andrews, a former teacher who brought a large map of the region to show during her presentation. They are concerned that the developers have not taken into full account the potential harm such a large development (approximately 380 homes) would do to the environment.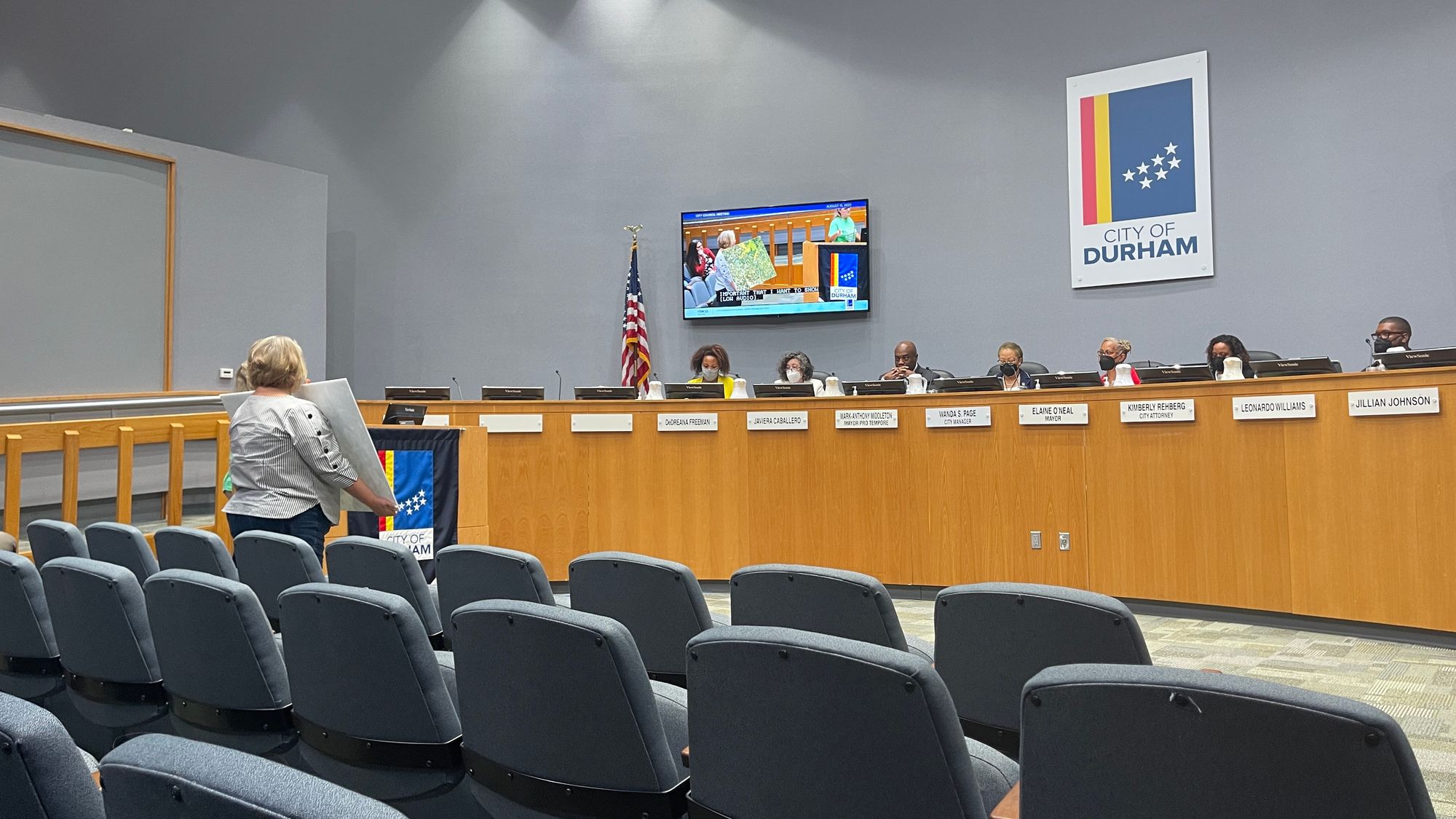 Andrews also brought small samples of the water from Lick Creek which she nicknamed "tomato soup" for its reddish-brown color due to sediment runoff. Below is a video from Preserve Rural Durham showcasing the "soup" in more detail.
Those in favor of the proposed project, both members of the council and southeast Durham community, spoke to the immediate need for housing to alleviate the affordability burden the city currently faces. At the meeting, the developers offered to set aside three units out of the proposed 380-home project for affordable housing, as well as $80,000 for the city's affordable housing fund.
Ultimately, the tomato soup samples worked, for now. The Lick Creek water quality issues were a line three members of council were not willing to cross. Mayor O'Neal and Councilpersons Freeman and Holsey-Hyman opted to vote down the first motion to annex the property into the city jurisdiction. Because the first motion failed, the subsequent motions were not voted on.
Things To Consider (working title)
Types of development
Something to note is the difference in how commercial development and residential development are handled by the council and how it is perceived by the community. In addition, it is worth keeping tabs on if the developers are for-profit or nonprofit entities. In Monday's meeting, you had both for-profit (CSC Group) and nonprofit (Reinvestment Partners) represented.
During the previous council meeting on August 1, we heard from residents at E. Cornwallis who were split on whether to introduce a new commercial property into the neighborhood versus creating more housing, and even then, could not agree on single-family or multi-family housing. Yes, our friend Nil Ghosh makes an appearance.
Each combination of these development types presents different challenges and opportunities for the city and the developers alike. We'll dive deeper into these distinctions in a future newsletter. In the meantime, check out this episode of The Buddy Ruski Show with Raleigh developer Jed Byrne.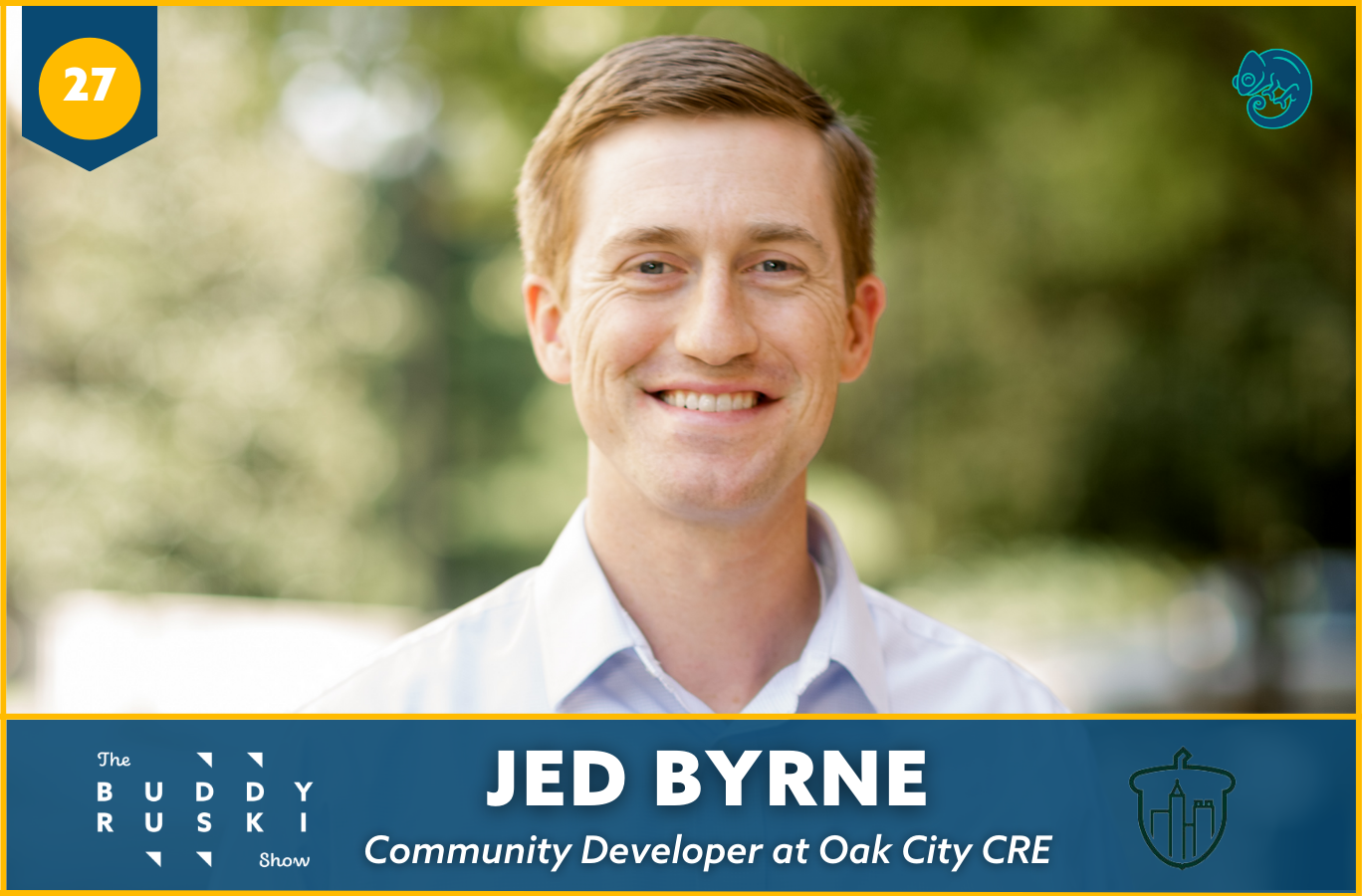 More On Absences
Councilperson Jillian Johnson shares many similar views with her colleague Javiera Caballero. The pair often share voting patterns as well. While it is only speculation, one could assume that her vote might have tipped the scales in favor of the Leesville Road project.
Environmental Issues vs Housing
Similar concerns have been raised by members of the Durham community around the environmental impact of a potential development near Black Meadow Ridge at West Point on the Eno.
Civics 101
Each edition of By The Horns, I will do my best to introduce a new idea or piece of information to help us all be more actively engaged citizens. Government processes can feel daunting and cumbersome, but it's important that we don't allow those hurdles to deter us from our duty.
This week, let's take about public comment!
Showing up for council meetings to give public comment is a sure-fire way to have your voice heard by your elected leaders. As we saw in the Leesville Road debate, having representation for your issue can sway members of the council in favor of your cause.
There are a number of ways to participate, both in-person and virtually. Follow this link to find the appropriate method that works for you.
Additional Items
Mayor O'Neal will begin offering office hours in 20-minute slots. You can sign up here, but be warned; she might put you to work.
The Council is going on retreat to do a "deep dive" into housing with assistance from the UNC School of Government. Hear more about it from Mayor O'Neal.
An important milestone for Councilperson Holsey-Hyman! She submitted her first resolution as a member of the city council on Monday. The item is formally a "Resolution Supporting Safe and Protective Measures to Foster Healthy Learning Environments in Durham Schools."
The council voted to approve Sister Cities of Durham Board of Director's recommendation to suspend Kostroma, Russia as a Sister City as the country continues its invasion of Ukraine.
I lived a block from Harriet's Place II between 2015-2019. During that time, the duplex across the street from us was raided by S.W.A.T. and the owner was busted for dealing heroin. The street up from us was Dawkins Street which we nicknamed "Hamsterdam" in homage to The Wire. That area has come a long way in just a few years, and the Harriet's Place II project would continue that momentum.