By The Horns | March 11, 2023
Democracy is a perpetual negotiation.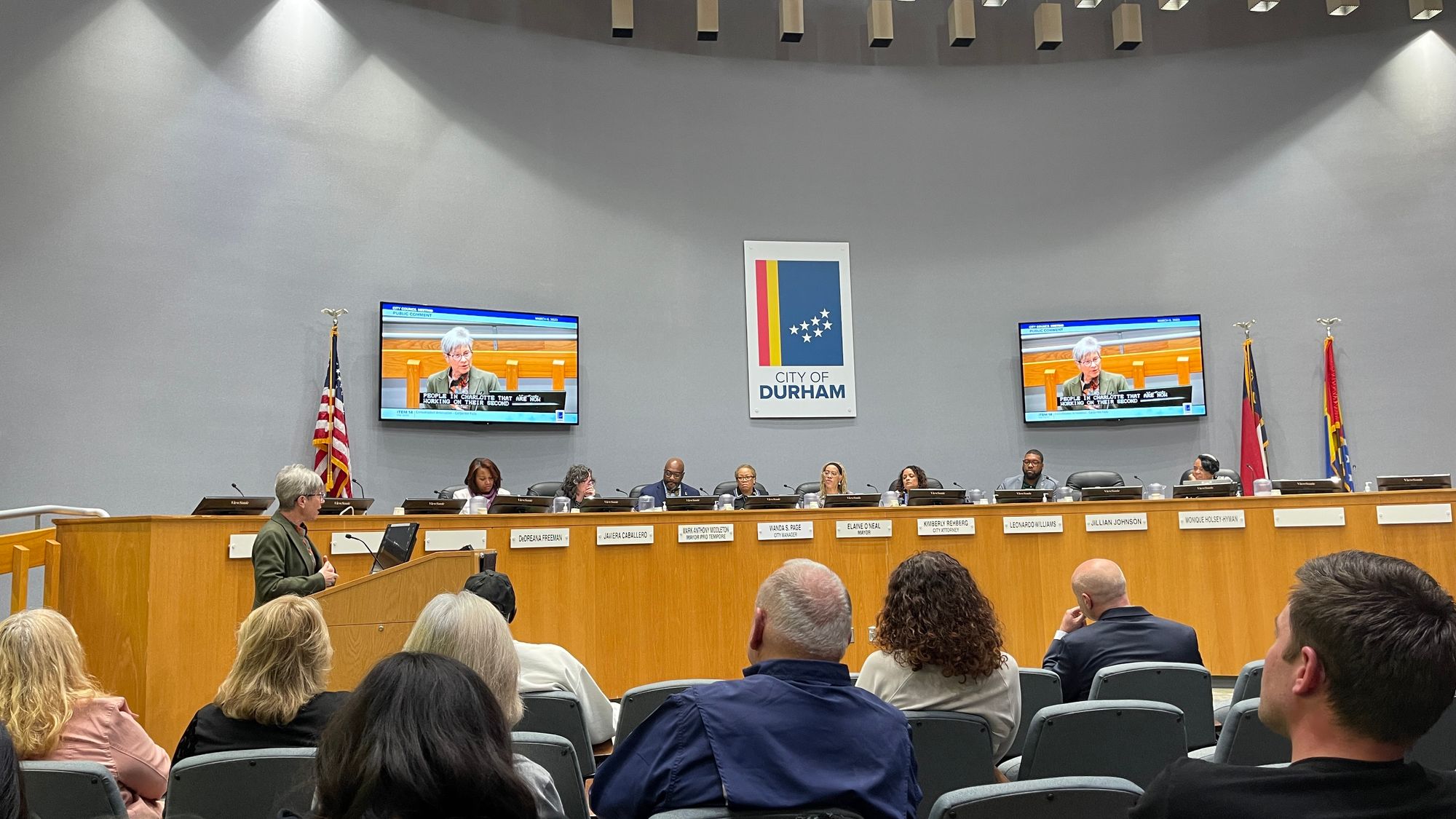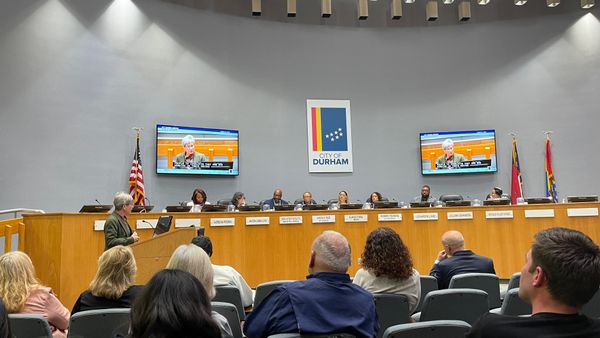 Welcome to the newest edition of By The Horns, a newsletter covering the Durham City Council. This series is intended to help guide those attempting to understand the mechanics of Durham city government, stay informed on issues throughout Durham, and learn the tools necessary to be a more engaged citizen.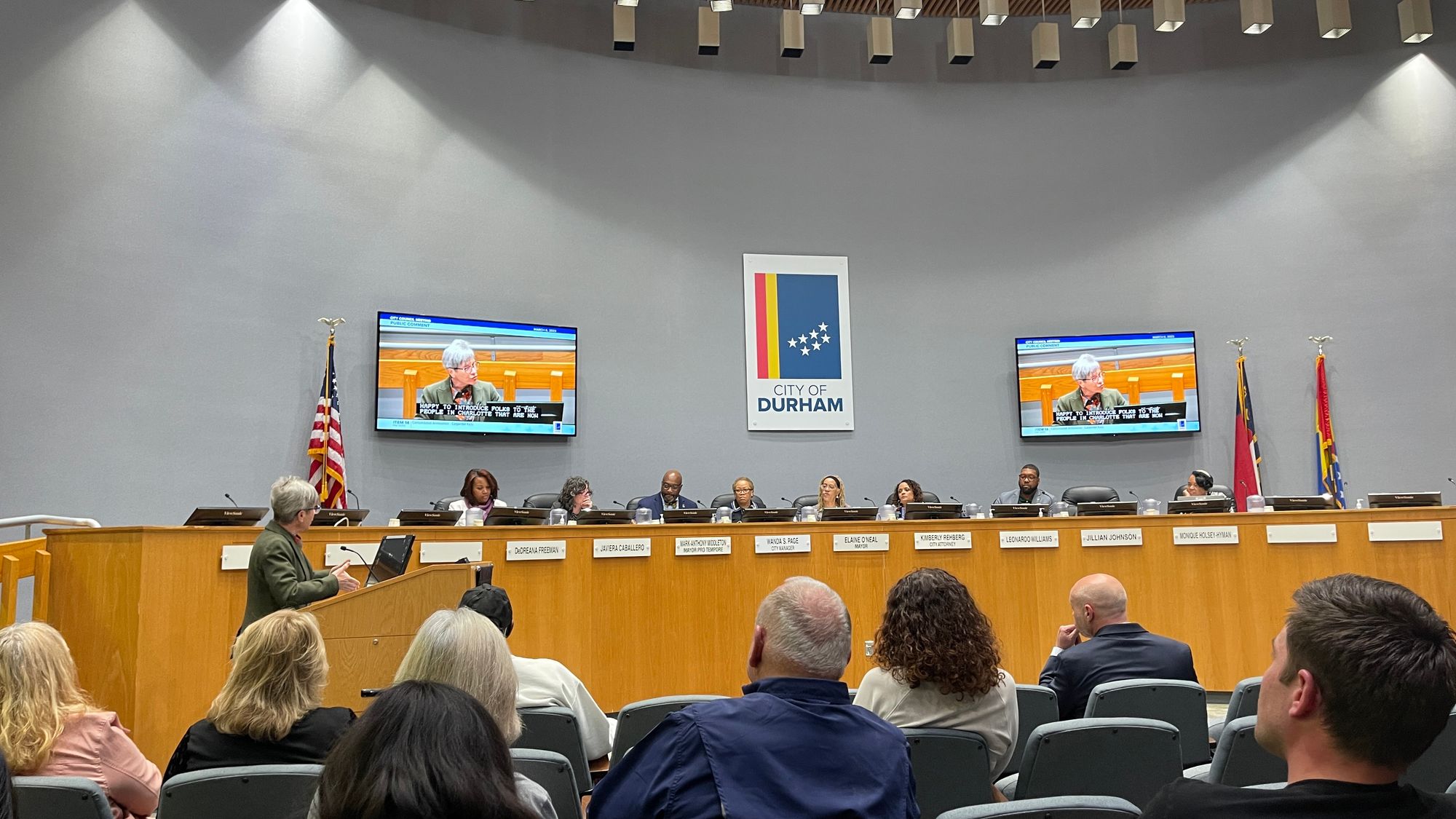 The Meeting Agenda for March 6 can be found here.
The By The Horns Resource Guide can be found here.
Intro
As the enigmatic philosopher André Benjamin once said, "you can plan a pretty picnic but you can't predict the weather." What could've been a one-hour meeting, according to some council members, stretched to almost three, leaving them frustrated and me all by my lonesome. No one even told me sorry. For real.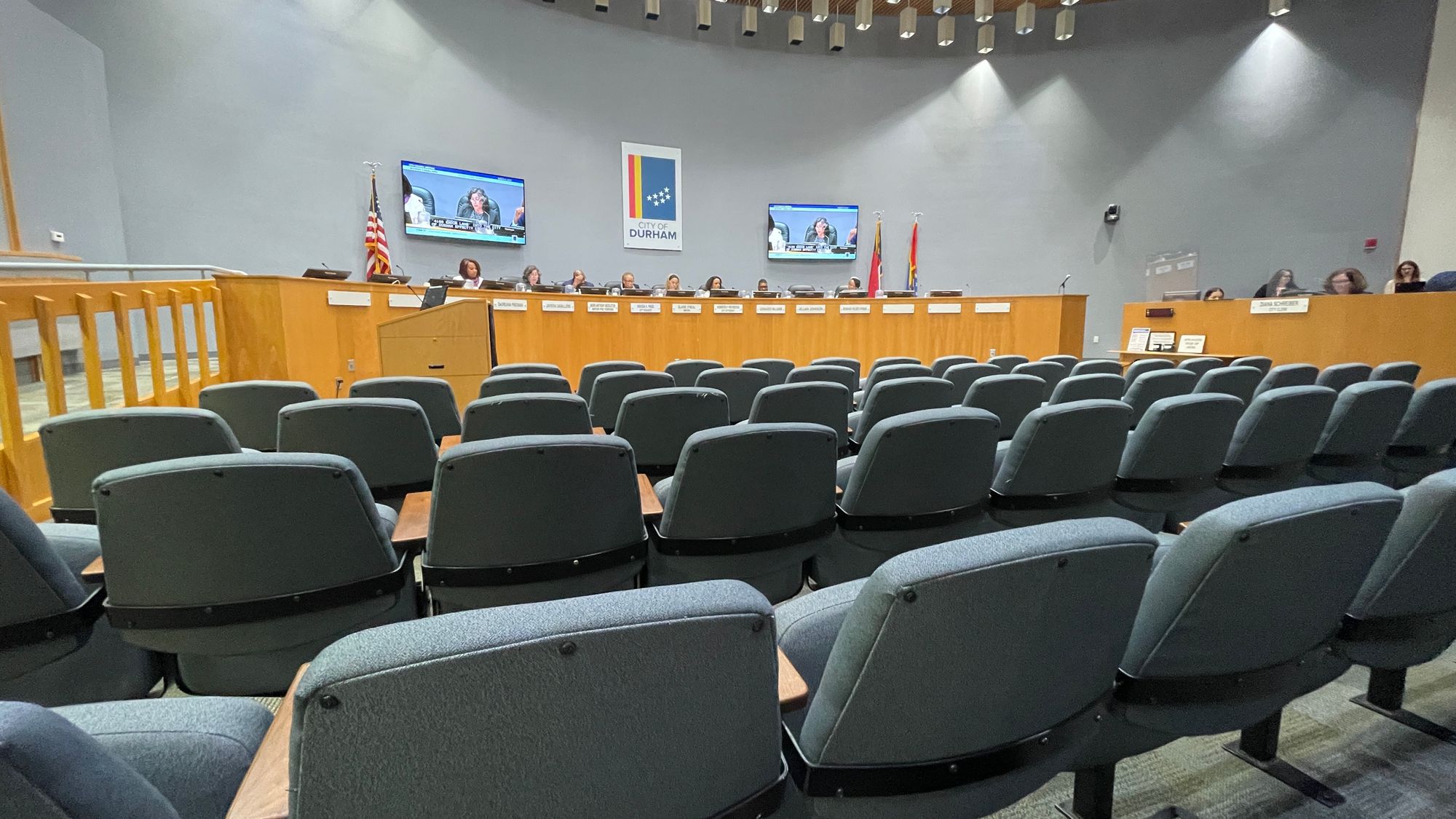 Call to Order
A Brief Summary of the Meeting
The virtue for the month of March 2023 is Fortitude.
The council recognized Arbor Day, which is celebrated on the first Friday after March 15 in North Carolina. See how our state's investment in trees stacks up on the Arbor Day website. Keep Durham Beautiful is hosting a tree planting activity on March 25 from 10am - 12pm in celebration of the holiday. More details here.
Members of the HEART program were recognized as part of National Social Work Month. The program launched in 2022 with the intent to "connect people experiencing non-violent mental health crises or quality of life concerns with the right care by sending new responses that better match residents' needs."
In alignment with other government bodies across the state of North Carolina, council recognized emergency call takers, the "FIRST first responders" or "Headset Heroes." The state receives seven million emergency calls a year. Durham receives roughly half a million calls alone. (45:34)
All Or Nothing
The annexation of the "Carpenter Falls Subdivision" was the headlining agenda item for Monday's meeting. Mayor Pro Tempore Middleton described the vote as a "layup" given that the developer can build on the property by right without the need for a rezoning.
"Colleagues, this is a direct translation. This is almost one of the most perfunctory things we do. It's so perfunctory that the Planning Commission doesn't even take a vote on it. They just passed a resolution because whatever can happen after this vote can happen before it. It'll just be on wells probably as opposed to connected to our city water and sewer." (2:13:15)
Nonetheless, folks from Preserve Rural Durham made another case to halt development by insisting that the applicant did not adhere to the requirements of the "conservation subdivision," a set of parameters in the UDO meant to encourage density and protect the environment.
On the surface, this strict framework reads like an asset for city officials and citizens concerned with the effects of suburban sprawl. Robin Barefoot, a longtime Durham resident who spoke in opposition of the development, sees it as a Trojan Horse.
"I think that by virtue of this narrative about how we can do more affordable housing if things cost less for us to get through the hurdles of good government, the developers, I believe, are abusing this. I think that they are getting in the door with plans, they're getting approval because conservation subdivision sounds great, but what's happening on the ground is not conserving anything. The damage is very vital. The real concern here is that the developers are being given the keys to the kingdom but then they're not following through." (1:46:41)
Barefoot is not a neutral party in this discussion, as she alluded to. She is currently one of a number of people in a lawsuit against the developers of the proposed Mason Farms conservation subdivision in North Durham County.
Jarrod Edens, president of Edens Investments and the representative for Carpenter Falls, has been doing development in Durham for decades, first as the head of his own consulting firm before pivoting to taking on projects of his own under Eden Investments. Edens said he worked directly with the city's planning staff to ensure all the requirements of the conservation subdivision were met.
"Mrs. Andrews mentioned environmentally sensitive areas and efficient use. I think that's what the conservation subdivision is. I mean, it specifically saves environmentally sensitive areas. The lists we're all talking about. I was on Planning Commission when this was passed in 2008. I know the list intimately and we've used it several times. The Planning staff is very forceful in making you go down that list and the word 'shall' is definitely in there." (1:39:29)
Out of the break, Councilor Middleton specifically addressed the members of Preserve Rural Durham, doling out "constructive feedback" about their negotiating tactics. The following comment came on the heels of a brief civics lesson from Middleton about the role of deliberation in a functioning democracy.
"If the issue is damage to the environment then why quibble over the number of affordable housing units. What difference does it make? Is the suggestion that if we cross a threshold of 10 affordable homes we'll forget about the environmental damage and let it go? I think it's a bit of a red herring." (2:15:52)
Democracy is nothing if not a perpetual negotiation. To suggest that Preserve Rural Durham should fight for all of what they want or none of it runs in opposition of the principles of community building.
In his defense, it can be difficult to pinpoint PRD's motives given their track record. Affordable housing has rarely been a sticking point for the group compared to the deafening alarm sounded for alleged environmental damage.
Whether their concerns are real or a subterfuge, Councilor Caballero reminded us that housing in these areas might be the only thing affordable for certain people in the community.
When I drive my sites, when I go through these neighborhoods… one thing I notice is how diverse the neighborhoods are. Most of the folks that I know who've been able to buy in Durham since 2015, this is the part of Durham they've been able to buy in and these folks are black and brown and that's important. Our inner core neighborhoods, unless you are gentrifying in parts of East Durham, are not affordable. You can't afford to do infill development in these places because it's too expensive. (2:19:42)
With Councilor Johnson absent, the "layup" vote failed on a 3-3 split, leaving a couple of council members visibly irritated. Right. Okay, MORE than normal.
For folks in chamber or watching at home, it can be challenging to recognize when a project is a clear win in the eyes of council. Things like affordability, sustainability, and density are stated values but not everyone's vote always coincides. The conservation subdivision has 12 main objectives that must be met. Does each member of council have their own set of rules that guide their decisions case-by-case? Perhaps during the public hearing for the SCAD amendments (more on that later), council will elaborate more on what their guidelines for development are as they look to rewrite them for the city.
CIVICS 101
As a self-proclaimed "words guy," I still love numbers (and am a devout follower of "Moreyball").
While doing research for this story, I went digging around the U.S. Census Bureau website and came upon a few illuminating statistics.
In 2020, the Census Bureau recorded Durham County at 286.53 square miles of land area. In contrast, the city recorded only 112.79 sq. miles.
The same year, the bureau estimated that the population throughout the county was 1,133.7 per square mile, while the population within city limits came out at 2,513.6 per sq. mile.
Here's how that breaks down:
324,833 total city and county residents.
41,336 county residents on 174 sq. miles.
283,547 city residents on 112 sq. miles.
Feel free to numbers-check me using the Census Bureau website. (I've been writing a while today, y'all…) Durham Neighborhood Compass is another useful resource for understanding your community "by the numbers."
As of today, there's more land in the county than the city and a lot less people living on it. If you're looking to build 100, 200 or 300+ unit housing developments, you basically have one option.
I have plenty of opinions on how to evaluate those numbers with regards to Durham's future (shocker, I know), but let's table that for another time. Tip-off is less than an hour away.
Additional Items
The public hearing for the SCAD amendments, originally set for the March 20 city council meeting, has been postponed.
That doesn't excuse you from joining us in chamber for the March 20 council meeting! But the showdown for how our city chooses to rewrite its rules for development will have to wait.
A few people have graciously reached out to me to point out that Leigh Farm Park is NOT a golf course, which was alluded to by one of the speakers from the previous meeting who I quoted in the last By The Horns. However, the park does have a disc golf course as part of its amenities. I appreciate folks who are not only willing to read but willing to hold me accountable. By The Horns is meant to be interactive!