By The Horns | July 5 2023
The contentious budget gets passed as council goes on break for the month of July. Will the bad juju fade before their return to city hall?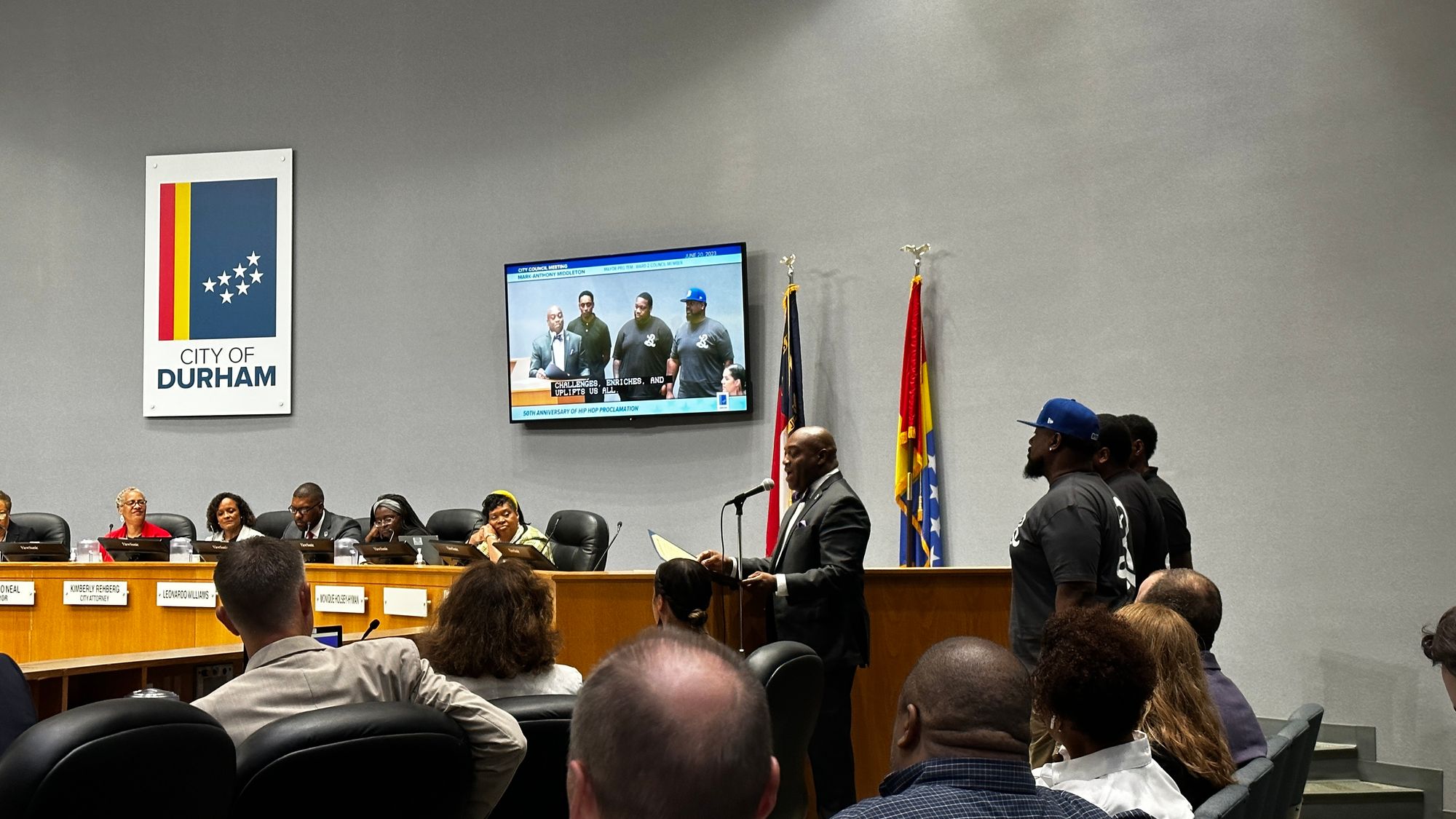 Welcome to the newest edition of By The Horns, a newsletter covering the Durham City Council. This series is intended to help guide those attempting to understand the mechanics of Durham city government, stay informed on issues throughout Durham, and learn the tools necessary to be a more engaged citizen.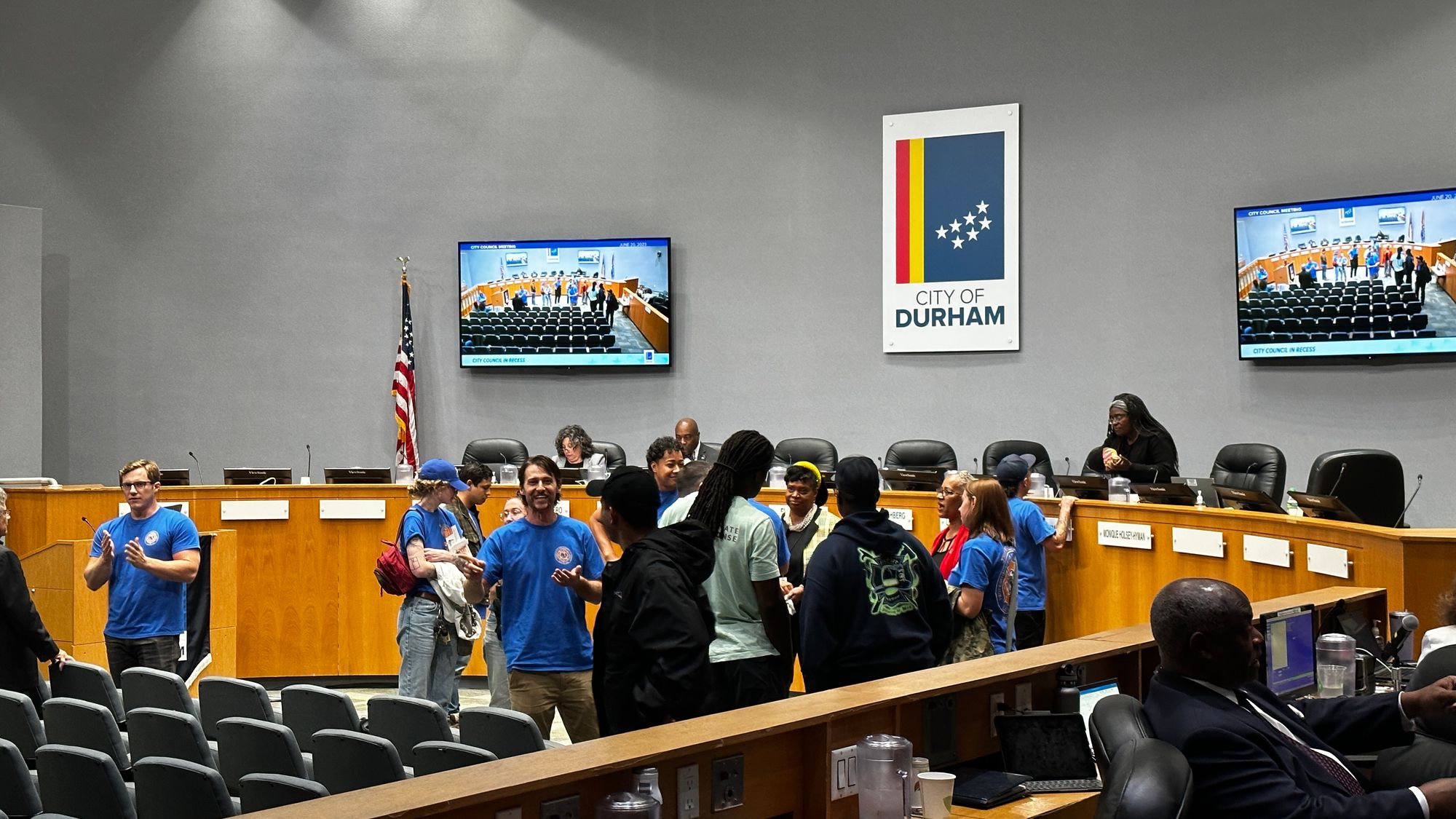 The Meeting Agenda for June 20, 2023 can be found here.
The By The Horns Resource Guide can be found here.
Intro
The June 20th council meeting was the culmination of a turbulent few months for the city. Accusations made toward councilors by community members and other council colleagues has hung like a dark cloud over City Hall. Discussions that should have otherwise been about policy decisions to curb our affordability crisis or solve our gun and traffic violence issues devolved into veiled criticisms or outright name calling. Even still, I rarely leave a meeting with as much despair as I did that night.
Typically, I find covering the interpersonal drama to be extraneous.  But it will be inescapable this time, especially given recent announcements that Mayor O'Neal and Councilor Johnson will not seek run for re-election. Each member of council, including the mayor, as well as a handful of community members, brought their personal agenda to bear during the meeting. As much as it was a culmination, it also felt like the start of election season.
Call to Order
A Brief Summary of the Meeting
City Council recognized three proclamations: Mayor's Monarch Pledge Day, Cleft & Craniofacial Awareness Month, and the 50th Anniversary of Hip Hop. All three are worth watching back. I was impressed as much as I was moved by the 15-year-old young lady who spoke on behalf of Cleft & Craniofacial Awareness Month. She gave a charming and heartwarming speech about her experience living with the condition.
After six months of deliberating, the 2023-2024 city budget was passed 4-3. More on that later.
Reinvestment Partners, a Durham-based nonprofit, is repurposing an old hotel into 72 units of housing, including 36 units (50%) of affordable.
The Streets at Southpoint is set to redevelop a large parcel of land (132 acres) by building housing units, a hotel, commercial and office space at and around the old Sears building. The council voted 5-2 in favor of the proposal with Councilor Caballero and Mayor O'Neal as the dissenting votes; an unusual split between "party lines."
The Final Budget Showdown
I still consider myself a city government novice. When I walked into chamber for the meeting, I assumed passing the budget was just a formality. Mayor O'Neal might say something like: "Thank you all for coming. We've worked extremely hard on this budget. I'm proud of the work our staff has done to set us up for success. Not everyone got what they wanted, but democracy is about compromise. Please open the vote so we can pass the budget." Boom. Done. Crowd applauds. Everyone moves onto the amazing affordable housing project that was next on the agenda.
Since January, the city has facilitated a number of work sessions, staff retreats, staff presentations, and public hearings in an effort to build consensus over how to spend $610 million. State law requires the City of Durham to pass a balanced budget by June 30. The June 20 meeting was the last scheduled council session before the deadline and before council goes on break until August 7. Given the time constraints, and the amount of time already spent on the process, it seemed unlikely that they would make any significant changes to the budget at the 11th hour.
Even if council wanted to move quickly through the budget vote, the item was on the General Business Agenda. Any member of the community could speak prior to the vote. If the item were on the Consent Agenda, someone could pull it into the General Business Agenda as an item for public hearing. The voice of the people would not be suppressed.
But again, the budget was finished. Folks who wanted to have their say, especially members of city council, were given ample opportunity. So the fact that Mayor O'Neal opened the budget discussion by throwing down the gauntlet on a last-minute tax increase to give firefighters and police officers an additional pay increase on top of the one already in the budget was shocking. Councilors Freeman and Holsey-Hyman spoke in favor of the proposed change. Others seemed caught off-guard. "We had no advanced notice of this," said Mayor Pro Tempore Middleton.
Why choose to take a specific vote on the firefighter and police pay before the public hearing, separate from the rest of the budget? Why take a vote at all, knowing you don't have the support necessary to pass it? Mayor O'Neal said the choice was not "posturing" as Middleton suggested. Given the circumstances, it's hard to see it as anything else.
The declaration played well in the room full of firefighters and their supporters, but increasing taxes at the finish line is not a decision that can be made lightly. After spending months crunching the numbers, it seems unlikely that the mayor wasn't aware of the implications her proposal held.
We started this budget process in January. It's been going on for six months. When the manager first proposed her budget as balanced, everybody applauded it. When we proposed our Council items, none of us put this on our list. - Mayor Pro Tempore Middleton (2:16:40)
So how did we get here?
On March 20, during the first budget hearing, 19 community members spoke. The two main topics were Vision Zero and the HEART program. The issue of police and firefighter pay was not raised. Councilors Middleton and Williams were the only councilors to speak (briefly) after public comment.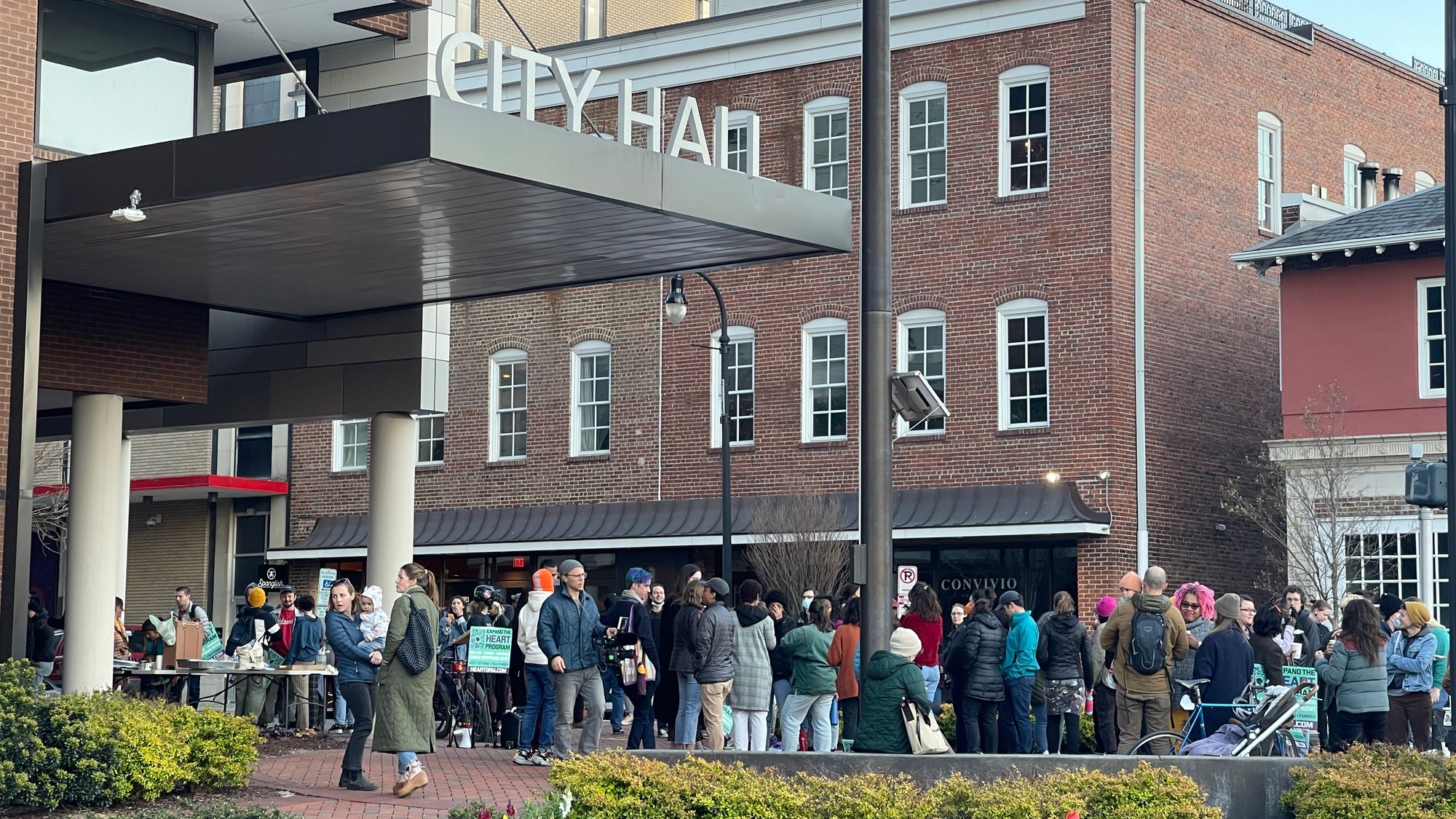 At the May 15 budget presentation, the Local 668 firefighters union was well-represented in chamber. They advocated for a salary and "pay step" increase to offset pay freezes during COVID-19 lock down and an overall disparity in compensation that they argued is causing them to lose colleagues to neighboring fire departments. A few folks made the same ask on behalf of police officers. Council members acknowledged their concerns and said they'd take a serious look at creating a plan to fix the issue. Advocates for Vision Zero and HEART also spoke.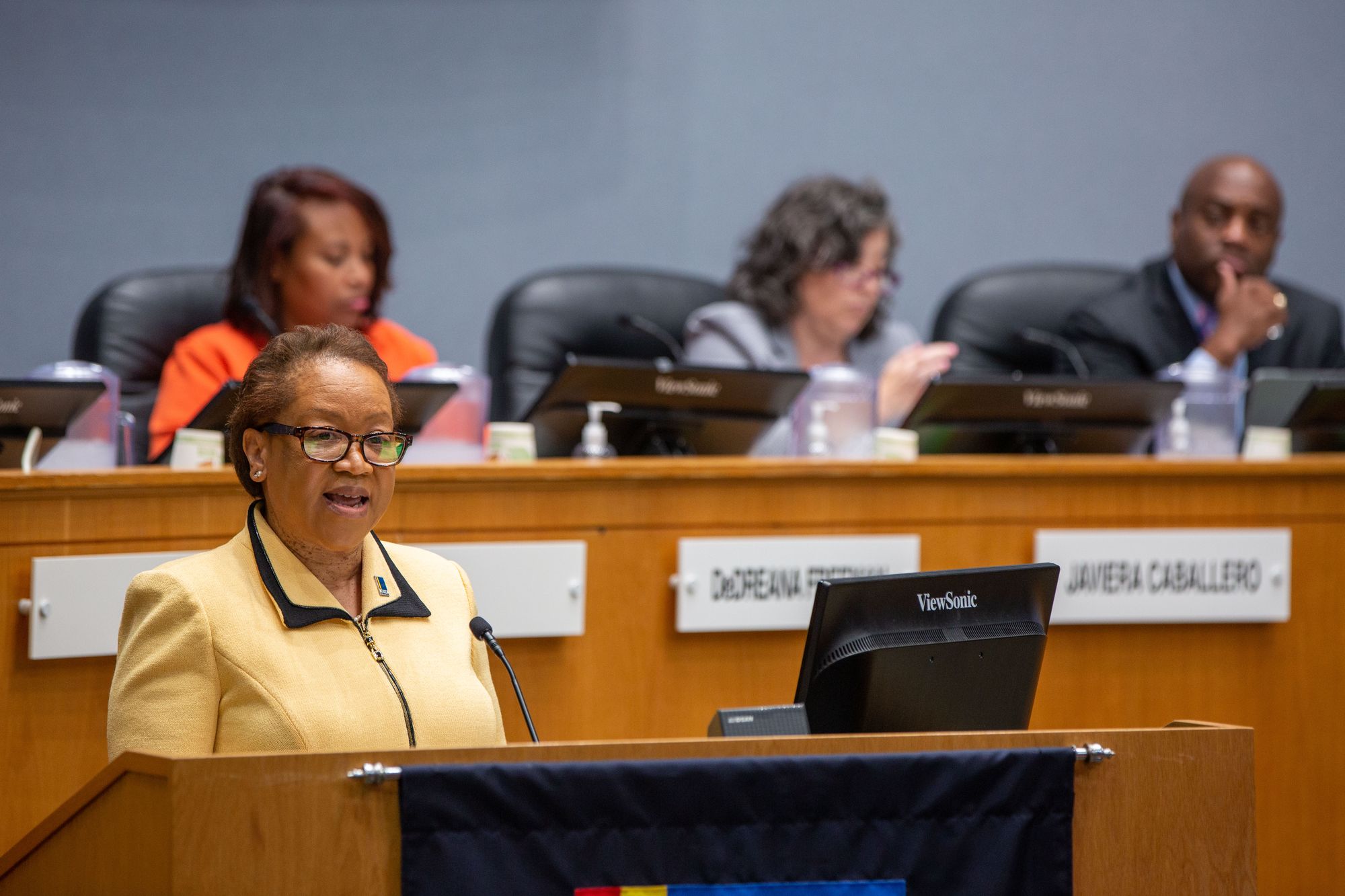 At the June 5 public hearing, the firefighters returned to make their case, as did advocates for Vision Zero, HEART, Hayti Reborn, the affordable housing fund, and the Solid Waste department. No members of council spoke after the conclusion of public comments.
During the June 8 work session, Councilor Caballero gave a thorough explanation of the predicament council faces:
"I understand you really want your steps. So do our police officers and so do our other employees who are on the step plans as well. Those folks didn't get the raise that you all get. They actually came out less than our police officers and our firefighters. So it is my belief that either we right-size everyone or we don't right size anyone, at least this fiscal year. That's a $16.8 million ask. Maybe if we'd gotten the ask in January, we could have made some really hard decisions… but that's something that has to happen not in June when we have to legally pass a budget by the end of June by state law."
Freeman and Holsey-Hyman said they did not support the proposed pay increase as it was listed in the budget. Nonetheless, it seemed as though this particular item had reached an impasse and the budget would pass at the next meeting.
That is, until chaos ensued on June 20.
Council eventually voted NO on the mayor's proposal, 4-3. The lines in the sand had been drawn, as the mayor intended. It felt like a high school cafeteria. Folks singled out council members for their voting choice. Former city council member Jackie Wagstaff accused Middleton and Williams of being "improperly incentivized." (1:30:26) Freeman claimed that, "this budget was guided by two council members and their puppets, if I'm to be honest. The city manager has her hands tied." (2:42:19)
Amidst the drama, a couple of important points managed to slip through during the discussion.
To facilitate the pay raise, the city would have to also raise taxes. Caballero said she was not willing to do so on such short notice after telling people in May during the budget presentation that the city was not going to increase taxes. Middleton raised a similar issue.
"I want the citizens of the city, the 300,000 who can't fit in this room to hear that there will be a six-to-eight percent increase in this budget with no tax increase because I want to give you (firefighters) a raise and not take it back with taxes. That is our goal." (2:13:49)
Councilor Johnson brought home the issue by connecting it to the housing crisis in Durham.
I think taxes in this community are really low. People move here because our taxes are really low. I think our taxes can go up. I will absolutely vote for a tax increase to improve city services, and I think I've made it clear why I'm not willing to do that right now but it's not because I don't want to raise taxes. The issue that we have is that because the state of North Carolina so strictly constrains what we can tax in our community, the primary source of our tax dollars is property taxes. Property tax is a flat tax. It hits lower income residents harder than higher income residents. We do not have the ability to have a higher tax on people who own more property so that people who can afford to pay more pay more. You pay the same amount, and as everyone understands, we are in the middle of a housing crisis. So raising the property tax rate in a housing crisis is a really difficult decision… and really hard to sell to a community that's already struggling. (2:25:14)
City staff had an enormous task in front of them to build a balanced budget that addresses many of the challenges Durham is facing as the city grows. When they set out to make this budget in January, I'm sure they didn't expect to do so without their budget director, John Allore, who was killed in March while riding his bike in Orange County.
I have a lot of deep gratitude for our staff in this moment. I know it's been very challenging for our budget staff who worked alongside him for a long time. So thank you to everyone who worked diligently through their grief. - Councilor Caballero (2:37:12)
By the end of the discussion, a binary had been created. Either you supported the firefighters or you didn't. Making the numbers work was a "future-self" problem for council. With the community watching, this was a moment to make a name for yourself, and some folks seized the opportunity.
What puzzled me… okay, ONE of the things that puzzled me, was the mayor. The decision to purposefully create a schism between council is not what I expect from someone in that position. The mayor is essentially just another member of council; one of the seven equal votes. They have no significant power. But they are often the voice for the city and the person who is tasked with bridging the many factions and agendas that come before council. To incite division amongst the ranks in favor of political support from the firefighters union was not affective leadership but it was a savvy political move for someone seeking votes. Except we now know that the mayor is not running for re-election, so why? Was the decision an effort to cement some sort of legacy?
No matter how you feel about the mayor's tenure, leaving for a month-long break with the bitter taste of the June 20 budget vote is an unfortunate way to wind down one's time in office. A break may be exactly what council needs to reset, but the tension between this current group feels irreconcilable and elections are fast-approaching. Things may have to get worse before they get better.
Opposition for Opposition's Sake
Rarely does a project come before council that is as much of a home run as the rezoning request brought forth by Reinvestment Partners.
The Durham-based non-profit intends to repurpose an Extended Stay America hotel on NC54 into 72 units of permanent multi-family housing with 36 units designated as affordable. That's 50%! In most cases, the city is fighting tooth and nail to get a developer to proffer 2-3%. Not only was the city getting an unusual amount of affordable housing, but the impact from construction would be greatly reduced because, as Executive Director Peter Skillern described, hotels like these are already used as long-term housing for Durham residents. Just listen to Skillern lay out the ways this project checks all the boxes. (2:57:33)
I talked to Skillern right before he presented and shared my appreciation for his work on the project. What I didn't expect him to tell me was that he expected opposition from community members that night. I thought to myself, "Surely, he means that in the abstract." Council routinely passes projects 7-0 that still come with pushback. But this project was different. No new major construction. 50% affordable units. Who could possibly be against this?
Sure enough, two people spoke after Skillern, voicing concerns about unit size and fire safety.
"Each hotel room, there's only one exit door. It opens into a hallway. Once you enter the hallway, you have to travel to the exits. There are too few fire exits for the evacuation of the tenants the way it stands."
Larry Booth, who owns property in the area, thought he was highlighting a real issue. In reality, he just described the layout of apartment buildings. As far as I can tell from the way Skillern described the rezoning, apartments and hotels have comparable fire code because of the similarities in design. None of the community members voiced concern. Reinvestment Partners has a sound track record of doing right by its tenants. The concern raised by the opposition felt like coded language for other issues.
After public comment, I'd had enough. The vibes were off. It was time to leave. If we couldn't pass an imperfect but incredibly impactful budget, and if we still had people opposing absolute no-brainer, slam dunk development projects, then what are we doing here?
I came into the June 20th meeting prepared to sit through a brief budget vote, a celebrated affordable housing proposal, and then grind through the Southpoint Mall discussion. Three hours, tops. Nil Ghosh would tell us how amazing the Southpoint redevelopment is for the city. I'd reluctantly agree that it's better than a giant surface parking lot. Council would vote 4-3 along the usual split, and I'd bike home bumpin' Respiration by Black Star.
Some of this land I must own,
Outta the city they want us gone,
Tearin' down the 'jects, creatin' plush homes…"
But I couldn't endure. Not even for you, Nil.
Housekeeping
City Council won't meet in-person again until August 7. Although they will be on break, the city doesn't sleep. I'll be working on at least 1 more BTH drop before we return to city hall in a month.
The first edition of By The Horns came out almost a year ago. Publishing this newsletter has been challenging, exhausting, exhilarating, illuminating, and yes, fun. No one said it would be easy. But you have entrusted me with guiding you through the local government process and making sense of everything that's happening in Durham. I take that job seriously, even if I still stumble my way through it sometimes. My work has improved, and my understanding of how communities are built has grown from writing this newsletter.
I'm grateful to everyone who continues to support this project. When I'm out in Durham, I run into more and more folks, some of whom I've never met, who want to talk about local politics. That's the goal! None of us are going to be experts, but collectively, we can build the type of communities we want to live in when we're curious, active and collaborative citizens.
Thank you for taking this journey with me. The future is bright. We have to continue believing in ourselves and the power we hold to build a better world.
For now, this is Justin Laidlaw, signing off.